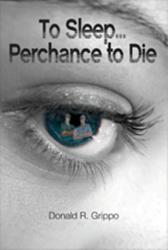 Sanford, FL (PRWEB) May 24, 2013
To Sleep…Perchance To Die (ISBN-10: 1938501128, Turn The Page Publishing, June 1, 2013), a mystery and psychological thriller by author Donald R. Grippo will be released on June 1, 2013 by Turn The Page Publishing at BookExpo America. The book is a thriller that keeps readers glued to every page with tangled lies, tainted loves, and a plot twist worthy of William Shakespeare and Mario Puzo. Grippo is expected to be one of the breakout new mystery authors of 2013. Residents of the Northeast will recognize a real life character in the book, famed criminal defense attorney Hubert (Hubie) Santos who has handled the appeal of Kennedy relative, Michael Skakel in the murder of Martha Moxley. Grippo was able to draw upon his real life experiences as a dentist at the Tennessee State Prison and his time as a guard at the Hartford State Jail for some of the scenes in the book.
"I am very excited about the release of my first novel," said Donald R. Grippo. "It has always been a dream of mine to write mystery thrillers. In To Sleep… Perchance To Die, I want the readers engaged and entertained. The plot twists are realistic and suspenseful, and my hope is that after they read the book, they'll want more. I'm currently working on the sequel."
In this thriller, Eurasian beauty Mai Faca plots to marry Jake Warden, a successful oral surgeon forbidden to her because of family honor. In an unheard-of scheme, fellow surgeon, Bret Manley, falls victim to Mai's seduction as she and Jake play a cruel trick to be together. Jake acts with surgical precision to clear the path to Mai's happiness, threatening lives including his own. In a wake of turmoil and destruction, Bret's uncle and well-known criminal attorney, Hubie Santos, attempts to find out if a surgeon would use his knowledge to kill. Readers will be kept in suspense to the end. Grippo writes in a style worthy of Mario Puzo, James Patterson, and Mary Higgins Clark.
Donald R. Grippo, D.D.S., practiced oral and maxillofacial surgery in northeastern Connecticut for more than 30 years. On a daily basis, the doctor encountered the patients' fear of undergoing oral surgery and associated intravenous anesthesia. To help allay such fear he wrote A Guide to the Guy or Gal Who Takes Your Teeth Out, a series of short stories dealing with the treatment of typical oral surgical problems. His resume includes working as a dentist at the Tennessee State Prison outside of Nashville and as a guard at the Hartford State Jail on Syms Street in Hartford, Connecticut.
Grippo will be doing a national publicity tour for To Sleep… Perchance To Die that will include national media appearances, book signings, and social media. Turn The Page Publishing will be releasing the book officially at BookExpo America, North America's largest tradeshow dedicated to the literary world.