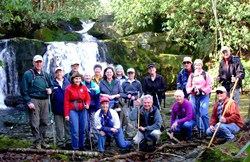 One of many friendly social clubs
Knoxville, Tennessee (PRWEB) May 22, 2013
Real Estate Scorecard has monitored Tellico Village for a number of years because it is one of the most well known master planned communities in Eastern Tennessee. Built on Tellico Lake during two real estate booms, this Tennessee lake community has had its share of primary residence property owners and investors. Years ago, Real Estate Scorecard was concerned about the POA management changes and financial issues they had read on the internet.
Last month, Real Estate Scorecard had the chance to learn the truth up close and sees Tellico Village as a role model in the real estate industry. Their balanced budget and $3 million in reserves is likely the envy of competing master planned communities. After meeting many of the board members and committee after committee, Real Estate Scorecard salutes the brilliance and commitment of its Villagers. The Tellico Village POA shared with them their financial statements from December 2008 to the present. Although Real Estate Scorecard is not certified accountants or licensed lawyers, they know what a full page of 'black ink' represents, year after year. Real Estate Scorecard finds the Tellico Village POA to be frugal and smart.
However to Real Estate Scorecard, the best places to live go beyond a balance sheet. This is why Real Estate Scorecared began collecting property owner reviews in 2011, to find out how property owners really feel about their neighborhood. To date, Real Estate Scorecards has collected 58 property owner reviews about Tellico Village which reads like a wall of happiness. What Real Estate Scorecard experienced during their visit was extraordinary. In fact, out of all the master planned communities Real Estate Scorecard has inspected, Tellico Village has the largest number of volunteers orchestrating countless numbers of social clubs. The volunteerism and friendliness there is on steroids. Residents have the choice of engaging themselves in a calendar of fun or being a happy hermit enjoying the beauty of Tellico Lake at their own speed.
This Tennessee lake community is in a great location and is located about 40 minutes west of Knoxville. The Villagers have access to excellent medical care, collegiate sports and an easy access international airport in Knoxville. A tad bit south is the entrance to Great Smoky Mountains National Park, America's most visited national park. The Villagers are not burdened with mandatory memberships and club dues. Amenities such as golf and fitness at Tellico Village are paid for a la carte. Residents can use them if they like or not. Because Tellico Village is not gated, some of Real Estate Scorecard's clients ask why POA fees are necessary. They explain, Tellico Village is a well managed village and offers far more than a tract of land with a bunch of homes on it.
The majority of Villager's are retirees from all walks of life. Teachers, bankers, government employees and successful business professionals who found a friendly place to live in the low cost state of Tennessee. These folks share an attitude of gratitude and love where they live. Tellico Village exemplifies Tennessean charm and we find their social strength to be priceless.
Rightfully so, Tellico Village won Real Estate Scorecards's 2013 Bliss Award for Best Tennessee Community of the Year.
About Real Estate Scorecard:
Real Estate Scorecard writes unbiased real estate reviews providing in-depth information about popular gated communities in Florida, Georgia, North Carolina, South Carolina and Tennessee, all in an effort to help people discover where to retire in the Southeast. Website address: http://realestatescorecard.com