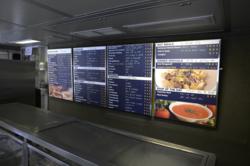 Origin Displays were able to execute a finished product that exceeded our expectations.
Long Island, NY (PRWEB) May 28, 2013
Origin Display Group Inc., a leading supplier of indoor, outdoor, and digital menu boards, has gone north of the border to Cochrane to produce a stainless steel menu board system for Ontario Northland's Polar Bear Express train. The Polar Bear Express is a commuter train that travels between the Northern Ontario communities of Cochrane and Moosonee, which is located on the James Bay Coast. During the five-hour trip, the train's dining car is a busy spot, providing passengers with snacks, beverages and meals.
Origin Displays was contacted by Ontario Northland to revamp their existing menu board system on the train. The on-board staff was faced with the challenge of maintaining a clean and professional menu board while having to change dinner specials and soups on a daily basis. Origin laid out a menu board system that now supports a rotation of more than 20 different dinner specials and soups, along with accompanying pictures. The menu was also translated into Cree, as the Polar Bear Express largely serves the aboriginal communities of the James Bay Coast.
Origin Displays' VP of Sales & Marketing, Vic Pereira, elaborates on this project. "Ontario Northland's Guest Service Manager, Martin Bizier, reached out to us about this project. He had obviously done his research. He had a clear plan in mind for his menu boards and it was on us to execute it. The complexity of their menu and the Cree language were new challenges for us. I have to give credit to our designer and Martin. Between the two of them they were able to work their way towards a great looking, finished product."
"It's been an honour to work with a company that offers state of the art equipment," stated Martin Bizier of Ontario Northland. "Origin Displays were able to execute a finished product that exceeded our expectations."