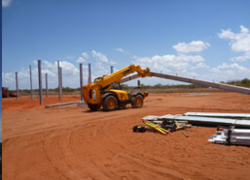 Wangara, Australia (PRWEB) May 23, 2013
Workman Sheds, builder of high-quality sheds, recently explained the differences in sheds for each area of Australia. Divided into regions, the requirements state that sheds built in Region A and B must be built to different specifications than those built in Region C and D.
The differences are due to weather variations from one region of Australia to another, Workman Sheds' Daniel Freauf explains. Workman Sheds services the entire country, so regional consideration is top priority when taking on a new client. The variations are slight, but Workman Sheds are built to last through multiple generations, so it's important to make adjustments due to the specific weather in an area.
Region A includes Sydney and Perth, as well as much of the non-coastal area of Australia. Because these areas are known to have thunderstorms, Workman Sheds uses careful calculations that minimize suction on the roof. Working with the client and studying local weather conditions, Workman Sheds chooses the exact building design to withstand wind velocities of 41 m/s or more.
The majority of the northern non-coastal region of Australia is classified in Region B, prone to the decayed effects of tropical cyclones. These winds can be harsher than those seen in Region A, so Workman Sheds must take more extreme measures to minimize wind impact, with winds approaching as much as 48 m/s.
With region C, more severe wind damage is possible, with tropical cyclones a possibility during the life of even a well-built shed. Workman Sheds takes more extreme measures in this area, which includes Cairns and much of the coast of Australia. Winds of 61.6 m/s or more are possible on the Australian coast, so Workman Sheds builds structures to withstand the strongest possible winds for extended durability.
Region D includes a small section of coastline in Western Australia that includes the Port Hedland area. Severe tropical cyclones are possible in this area, with Severe Tropical Cyclone George hitting Port Hedland in 2007. George was a Category 4 hurricane with windspeeds of up to 154 kilometers per hour recorded at the time of landfall. Noting this, Workman Sheds makes adjustments in sheds constructed for Port Hedland and surrounding coastlines to protect against the eventuality of another severe cyclone in the area.
Workman Sheds provides sheds to commercial, residential, and manufacturing customers throughout Australia. Each shed is designed with the most durable materials, including galvanized steel. Each customer is given a personal consultation and a free, no-obligation quote. Workman Sheds also provides a free 3-D drawing created to demonstrate the finished product prior to the project beginning, with a value of nearly $2,000. Sheds are also constructed to all current construction standards for the area, thanks to Workman Sheds' familiarity with regulations throughout Australia.
To schedule a free consultation with Workman Sheds or to learn more about the company, visit http://workmansheds.com.au/ or call 08.9288.4493.