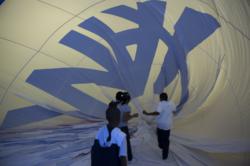 We are delighted to be able to bring the RE/MAX hot air balloon to K-12 schools throughout northern Illinois so students can learn about the exciting science behind ballooning
Loves Park, IL (PRWEB) May 27, 2013
On June 3, 360 students at Rock Cut Elementary School, 7944 Forest Hills Road, Loves Park, Ill., will learn about various aspects of ballooning, including its history and the scientific principles involved when the RE/MAX Hot Air Balloon Team presents an interactive educational program developed and sponsored by the RE/MAX real estate network in northern Illinois.
The program will be presented twice starting at 8:45 a.m. in the school gymnasium, giving all students a chance to participate. The 75-foot-tall balloon envelope will be inflated with cold air, permitting students to walk inside it. The presentation then will conclude outdoors with a demonstration of how the balloon basket and burners operate.
"We are delighted to be able to bring the RE/MAX hot air balloon to K-12 schools throughout northern Illinois so students can learn about the exciting science behind ballooning," said Laura Ortoleva, spokesperson for the RE/MAX balloon program in northern Illinois.
Also on hand to enhance the occasion will be a "cold air" version of the RE/MAX Soaring Home Balloon, a house-like inflatable that has become a crowd favorite since being introduced a few years ago.
The RE/MAX balloon will be involved in more than 100 educational programs presented by its crew at schools across northern Illinois this year. The balloon visit to Rock Cut was arranged by Shari Siracusa, a broker with RE/MAX Property Source in Rockford, Ill.
The RE/MAX balloon has become a nationally recognized corporate symbol since it was created 35 years ago and then combined with the now familiar RE/MAX "Above the Crowd!"® slogan. Today, the balloon enjoys great success in achieving both educational and promotional objectives, appearing frequently at festivals, parades and charity events.
RE/MAX has been the leader in the northern Illinois real estate market since 1989. The RE/MAX Northern Illinois network, with headquarters in Elgin, Ill., consists of 2,000 sales associates and 100 individually owned and operated RE/MAX offices that provide a full range of residential and commercial brokerage services. Its http://www.illinoisproperty.com and http://www.remax.com websites are leaders in consumer visits among real estate franchise brands. The http://www.global.remax.com website allows consumers to search properties across the globe and http://www.theremaxcollection.com is a specialized portal of luxury properties across the U.S. The northern Illinois network is part of RE/MAX LLC, a global real estate organization with 91,000 sales associates in 90+ nations. The RE/MAX organization has been recognized for numerous industry honors for excellence, and its Associates continue to lead the industry in professional designations, experience and production. Nobody in the world sells more real estate than RE/MAX. RE/MAX is the official real estate partner of Children's Miracle Network Hospitals and the national sponsor of Susan G. Komen for the Cure®.