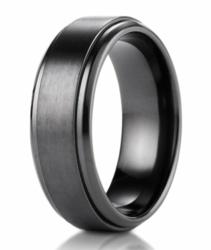 Shoppers looking for hot pre-4th of July savings on men's wedding bands will no doubt find what they're looking for at Mens-Wedding-Rings.com's annual Summer Sale.
Jensen Beach, FL (PRWEB) May 23, 2013
Just in time for the summer wedding rush, online retailer Mens-Wedding-Rings.com (MWR) has launched its annual Summer Sale, featuring deep discounts on over two hundred styles of men's wedding bands. With many couples waiting until the last minute to purchase the groom's ring, this limited time promotion is perfectly timed for those looking to save on their summer celebrations.
With its large and diverse collection of traditional and contemporary wedding bands for men, Mens-Wedding-Rings has something for virtually every taste and budget. The site's variety is evident in the Summer Sale section's offerings: affordable contemporary materials like stainless steel, titanium, tungsten, Argentium silver and cobalt chrome can be found alongside precious metals like palladium and platinum.
While there is no lack of affordable options, luxury lovers will no doubt love the selection of men's diamond rings marked down especially for the Summer Sale. Ideal as men's wedding rings, engagement rings and anniversary bands, MWR's diamond collection includes designs with white or black stones and setting materials ranging from Argentium silver to palladium.
Mens-Wedding-Rings.com carries the designer brand Benchmark exclusively, and dozens of bestselling Benchmark styles can also be found in the Summer Sale section.
The Summer Sale comes amidst several important changes made recently to further grow and diversify the business. In addition to adding a number of new product lines to its main site, MWR launched its own Amazon storefront late last year, which has already proven to be a success. Despite these advances, MWR has remained true to its core values of selling high quality men's wedding rings at everyday low prices.
"This is the time of year when many customers are getting married and turn to us for their last minute wedding band purchases," comments Mens-Wedding-Rings.com's president and owner Roy Devine. "We time our Summer Sale specifically for couples who can't wait until the 4th of July to save on the groom's wedding ring."
Mens-Wedding-Rings' Summer Sale features over 200 styles of men's wedding bands and designer rings reduced up to 70 percent off retail for a limited time only. In addition to the discounted pricing offered during the Summer Sale, customers at MWR always enjoy free worldwide shipping, a 30 day money back guarantee and a lifetime warranty on all rings.
About Men's-Wedding-Rings.com
Mens-Wedding-Rings is a niche online jewelry store for men's wedding rings and bands. Customers can find the best quality men's traditional and alternative wedding rings in this specialized retail environment. From major designer bands in traditional and alternative metals to non-designer rings in stainless steel, titanium, tungsten, sterling silver and cobalt, Mens-Wedding-Rings is a one-stop source for men's wedding bands and rings. Owners Roy and Judy Devine make it their goal to ensure their customers are completely satisfied, selling only high quality rings at excellent prices. MWR customers enjoy free shipping and a 30 day money back guarantee, and have come to expect the highest standards of service, selection and quality when they shop at Mens-Wedding-Rings. MWR offers the best selection of men's rings on the Internet, many of which are available through size 20.
For more information on MWR, please visit Mens-Wedding-Rings.com.
For further information, please contact:
Roy & Judy Devine, Owners
800-676-0363
roy(at)mens-wedding-rings(dot)com