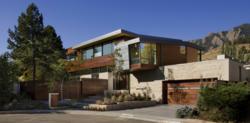 "Some very exciting architecture is happening in Boulder," says Arch11 Principal E.J. Meade.
Boulder, CO (PRWEB) May 31, 2013
Homes designed by Colorado firm Arch11, a commercial and residential architecture firm with offices in Boulder and Denver, were recognized recently by two national publications. A Boulder single-family home designed by the Colorado architects was featured in the Wall Street Journal's "Mansion" section, and a Boulder townhouse project – a design/build collaboration between architecture firm Arch11and Boulder construction firm Hammerwell – was featured in The New York Times "Home" section.
"We're delighted that our projects attracted national media attention," says Arch11 Principal E.J. Meade. "Some very exciting architecture is happening in Boulder, and it's inspiring for our work to be recognized as part of that trend."
The 4,700-square-foot Dunbar residence featured in the "Wall Street Journal" is a contemporary home built near the edge of a park, with glass walls that provide views of the Flatirons and open space. According to Candace Jackson, who wrote the "Wall Street Journal" article, the Dunbars, both climbing enthusiasts – Mrs. Dunbar was once a professional rock climber – wanted "to feel merged with the outdoors where they are happiest." The back of the house opens up to the outdoors with sliding glass panels. Built on an unlikely tiny, trapezoid-shaped lot and combining sustainable features like geothermal heating and cooling and the use of reclaimed wood, the home is an example of architecture firm Arch11's penchant for elegant solutions to challenging sites and their environmentally sensitive designs.
The design/build collaboration between Arch11 and Hammerwell featured in "The New York Times" is actually three houses, which share a single Boulder lot in the West Pearl neighborhood. "It's a clever and elegant land-use solution, spatially economical, practical and lovely," writes Penelope Green in the newspaper's "Home" section about Arch11's approach to the communal town houses on a tight lot, cleverly angled to take advantage of Flatiron mountain views. Green describes the residences as having "a Case Study House feel about them, with their flat roofs, open-plan living areas and glassy expanses." She goes on to characterize the long-term working relationship between Arch11 and Hammerwell as "deploying their particular brand of sometimes rustic, always clever modernism in nearly every neighborhood of the city, in 40-odd projects that range from modern farmhouses to suburban 'lofts.'"
Founded in 1993, Arch11 has gained recognition for projects ranging from exceptional residences to institutional planning, mixed-use development, restaurant and product design. Recent awards include a 2012 Citation Award from AIA Colorado, five 2012 Design Awards from AIA Colorado North and two from the Denver Chapter of AIA, the 2009 Firm of the Year Award from the Colorado AIA and four 2011 "Builder's Magazine" Watermark Awards, including Project of the Year. Arch11's Ken Andrews also was named 2011 Young Architect of the Year and Instructor of the Year by Colorado AIA.
Company Information: With offices in Boulder and Denver, Colo., Arch11 has 30 combined years of green building technology leadership. The staff's unusual level of hands-on experience ranges from boat building to furniture making, contributing to its reputation for commitment to craft, detailing and design integrity. For additional information visit http://www.arch11.com.
Media Contacts: Darla Worden, WordenGroup Strategic Public Relations, darla(at)wordenpr(dot)com, 307.734.5335; E.J. Meade, Arch11, ejmeade(at)arch11(dot)com, 303.546.6868