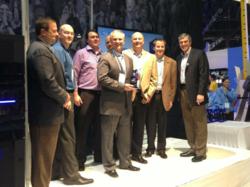 Dallas, TX (PRWEB) May 23, 2013
Lumenate today announced it has received the 2012 EMC® Velocity™ Services Quality Award from EMC Corporation for achieving outstanding service excellence and customer satisfaction as measured by the EMC Velocity Services Quality (VSQ) program.
The EMC VSQ program is a project-specific survey program designed for partners with Velocity Services designations to solicit customer feedback regarding the quality of the partner's service engagements.
"This is the sixth year in a row that we have won this award, and it really has come to represent our ongoing commitment to listening to our clients and developing the creative technology solutions that help us stand out in the industry," said Jamie Shepard, Regional Vice President, Lumenate Northeast. "We're proud of our EMC partnership and the skills and solutions we're able to bring to the table as a result of it."
"EMC's Total Customer Experience hinges on superior customer satisfaction and quality and is a cornerstone of EMC's success. I'm delighted to see an increasing number of Velocity Solution Provider partners from around the world who continue to drive and deliver outstanding levels of customer service to their customers. The latest survey results demonstrate that these partners have embraced and honed their EMC services skills set to maintain increasingly high levels of customer satisfaction," Brian Abernethy, Director, EMC Global Services Partner Programs. "As an EMC Velocity Services Quality Award winner, Lumenate demonstrates leadership in service delivery quality and exemplifies the high standards to which EMC holds its own Global Services organization."
The EMC Velocity Services program enables a select community of trained and certified EMC authorized partners to deliver a comprehensive portfolio of services ranging from technology implementation to technical support. These partners provide value-added services to address the most crucial aspects of a customer's information technology infrastructure.
About Lumenate
Lumenate is a Technical Consulting Firm focused on enabling the Virtualized Enterprise with Disciplines in Storage, Virtualization, Networking and End-to-End Security. Headquartered in Dallas, Texas, Lumenate has offices throughout the Southwest, Midwest, and Northeast, serving customers nationally and internationally.
For additional information:
Visit http://www.lumenate.com or contact: tim(dot)barto(at)lumenate(dot)com.
EMC and Velocity are trademarks or registered trademark of EMC Corporation in the United States and/or other countries. All other trademarks used herein are the property of their respective owners.