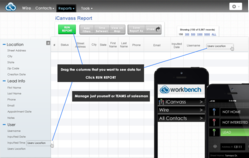 The simplest door to door sales app ever invented.
Dallas, TX (PRWEB) May 23, 2013
iCanvass, the feature-packed app that makes sales simple, has announced that it will be available to download from the App Store and Google Play for just $0.99 for a limited time.
Usually priced at $4.99, the revolutionary tool has already generated hundreds of thousands of dollars worth of sales for users since its launch early this year. The price reduction is designed to make iCanvass accessible to even the smallest of firms, opening up its sublime functionality and exceptional lead management tools to enterprises of any size and budget for a fraction of the usual cost.
iCanvass developer Bryan Bulte said, "iCanvass is the simplest door to door sales app ever invented. It lends itself supremely well to almost any sales function and purpose, from outside salesman and concentrated sales campaigns to professional canvassing company use and fundraising pushes. Because of this versatility and the fact that it is so easy to use, we were determined to make it as widely available as possible by offering it at a hugely discounted rate for a limited time."
Pioneering a simple 'knock, tap, keep track' approach to canvassing, iCanvass has received rave reviews from sales managers around the country who have seen their sales prospecting function transformed.
Designed by an experienced team of sales professionals, iCanvass can be downloaded to any tablet or smartphone to turn the device into a seamless mobile sales tool, instantly. No training is required and the app can be powered up and used right away. Using the app, sales professionals can record each door knocked on with the click of a button and make a note of whether or not the lead was interested, not interested or not available. The map view also takes the guess work out of the sales process by creating a pin on a map to show which areas have already been visited and which areas need to be included on the sales route.