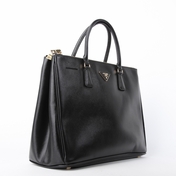 In addition to Prada, ModaQueen offers bags from Marc Jacobs, Gucci, Nicole Lee, and more.
LOS ANGELES, California (PRWEB) May 23, 2013
ModaQueen, online retailer of discount purses, wallets, and more, has added Prada to its collection of exclusive designer items. Hundreds of Prada pieces have been added to the ModaQueen site, including handbags, ties, wallets, keychains, briefcases, and iPad cases.
ModaQueen's designer products provide a savings of up to 80 percent off retail. By purchasing items from last season, customers can get a Prada handbag at a discount. Featured bags include the Prada Saffiano handbag line, which retails at Saks Fifth Avenue for thousands of dollars. ModaQueen customers will pay less than $500 for these bags, enjoying a wide variety of colors and styles.
Each bag comes with a certificate of authenticity to verify customers are getting the same high-quality designer items they can purchase in department stores. In addition to its great selection of women's products, ModaQueen also offers a full suite of Prada men's items, including laptop bags, ties, and wallets.
By buying items in bulk, ModaQueen is able to pass on discounts to customers. Many of the bags, sunglasses, and clothing sold on the site are purchased at the same distributors used by major department stores, as well as at clearance sales. For newer items, ModaQueen goes directly to the source in Europe, cutting out the middleman to help reduce costs. Each item is checked for perfection prior to shipping to customers.
In addition to Prada, ModaQueen offers bags from Marc Jacobs, Gucci, Nicole Lee, and more. Designer sunglasses from Giorgio Armani and Dolce & Gabbana are popular on the site, as well as clothing from such coveted designers as Diesel and Junk Food Clothing, and shoes from Burberry and Jimmy Choo.
Based in Los Angeles, California, ModaQueen maintains extremely low overhead costs in order to provide additional savings to customers. Many items are shipped the same day they are ordered and, since ModaQueen offers next-day air, customers can often choose an item and have it within a day. If, for some reason, a customer is disappointed with a purchase once it arrives, ModaQueen will accept the item back in unused condition for an exchange or refund. Items must be returned within 14 days for an exchange or 30 days for a refund, with a $15 shipping cost and ten percent restocking fee.
In addition to its clothing, bags, and accessories, ModaQueen also offers designer lingerie and a burlesque line, both from Leg Avenue. Visitors to ModaQueen.com can select by item or designer for added convenience.
In addition to including a certificate of authenticity, each item is shipped with the same packaging customers would find in a department store. Purchases often come with dust covers, cards and labels, and in original boxes as used by major department stores. When combined with the certificate of authenticity and/or serial number provided to certify an item, customers have the satisfaction of knowing they are getting a great deal on designer merchandise.
Visit http://www.modaqueen.com/ to learn more.