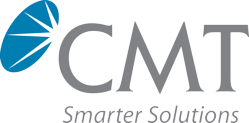 It's nothing short of amazing to think about where CMT is today compared to its founding 30 years ago.
Santa Clara, CA (PRWEB) May 22, 2013
Computer Media Technologies (CMT) opened its doors in the heart of the Silicon Valley in 1983, just as the first rudimentary notebook computers were trickling into the marketplace and the 3.5-inch floppy disk was a novel idea, still a year away from introduction.
The floppy disk's heyday has come and gone, but CMT is celebrating its 30th anniversary today as a high-growth technology solutions provider that continues to evolve with the constantly changing IT industry. CMT CEO Kurt Klein has guided the company's progression from specializing in magnetic data storage media during the early days to its current aggressive launch into cloud computing, which has helped CMT grow its customer base by 40 percent in the past year.
"It's nothing short of amazing to think about where CMT is today compared to its founding 30 years ago," said CMT CEO Kurt Klein. "We have been able to evolve our business through the years to stay attuned to our customers' needs, even as technology changes almost instantaneously today.
"As technology continues to advance, one principle hasn't wavered for CMT – we continue to focus on helping our customers increase productivity and devote more resources to their core business objectives by delivering leading-class, cost-effective IT solutions. It's thanks solely to the dedication of our tremendous employees and the loyalty of our customers, partners and distributors that we are celebrating a major milestone today."
To commemorate the anniversary, CMT and its employees are donating 30 pounds of food for each employee to the Second Harvest Food Bank of Santa Clara and San Mateo Counties, more than 1,500 pounds total. CMT also supports the food bank, which provides food to an average of a quarter-million people each month, with an annual employee Thanksgiving food donation drive.
"It's firmly engrained in our culture to support community charitable efforts, and the Second Harvest Food Bank performs incredibly important work to combat hunger in our area," Klein said. "We are honored to help Second Harvest assist those who are struggling to put food on their tables."
CMT has accelerated its growth with the introduction of CMT Cloud Solutions in May 2012, which affords customers the freedom of choice to deploy enterprise and data storage solutions in the cloud, on-site and in hybrid environments. CMT has also enhanced partnerships with leading IT manufacturers and cloud solution providers such as Symantec, NetApp, Cisco, Quantum, Brocade, VMware, Savvis and PeakColo.
According to Klein, those partnerships have been crucial to CMT's growth over the years, especially as it has launched the cloud computing offerings in addition to its mainstay enterprise-class solutions.
"We congratulate CMT on celebrating this 30th anniversary and continuing to provide our mutual customers with invaluable service and support," said John Eldh, Vice President, Americas Channel Sales, Symantec Corp. "Symantec values our partnership with CMT and looks to many more years of mutual success."
"CMT is an old-timer compared to Peak, but we share the same commitment to give our customers enterprise cloud solutions that are scalable, create true business value and meet the highest industry standards," said CEO Luke Norris of PeakColo, founded in 2006. "We congratulate CMT on its 30th anniversary and look forward to building a partnership that will benefit customers for many years to come."
For more information about CMT, visit gocmt.com or call 1-800-969-4CMT.
About CMT, Inc.
Computer Media Technologies (CMT) delivers high-performance, cost-effective solutions in cloud computing, IT infrastructure and managed services for businesses. For 30 years, CMT has provided customers with secure, flexible and reliable IT solutions that evolve along with their business goals and needs. CMT maintains the highest levels of partnership accreditation with leading IT manufacturers and cloud solution providers, including Symantec, NetApp, Brocade, Quantum, Cisco, VMware and PeakColo. To learn more about CMT's broad range of expertise and services, including its comprehensive CMT Cloud Solutions portfolio, visit gocmt.com or call 1-800-969-4CMT.
About Peak
PeakColo is an enterprise-class Infrastructure-as-a-Service (IaaS) cloud service provider to channel partners. White-labeling PeakColo's cloud services as their own, resellers and agents rapidly enter the cloud marketplace under their own brand without capital expenditure, enjoying a faster route to profitability. With Type II SSAE 16 and SOC 1 & 2 compliant data centers in six geographies across the United States and in Europe (Seattle, Denver, Chicago, New Jersey, New York, and the United Kingdom), PeakColo offers a cloud environment that contains tens of thousands of virtual machines and multiple petabytes of storage for public, private, hybrid and disaster recovery solutions. PeakColo is VMware vCloud® Powered and is a Platinum-level NetApp service provider. For more information, visit http://www.peakcolo.com or call (855) 532-4734.