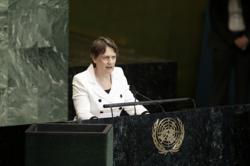 New York, NY (PRWEB) May 24, 2013
"Beginning her second four-year-term as administrator of the lead agency in the UN development system, Clark sits atop a US $5.8 billion annual budget and a staff of 8,000 in 177 countries. Her solution to sustainable economic growth and poverty reduction includes big investments in gender equality and reproductive health," it said. "Before becoming UNDP's first female head in 2009, Clark was the first elected female Prime Minister of New Zealand."
Helen Clark was ranked 21st on the list of 100, which includes German Chancellor Angela Merkel, Brazilian President Dilma Rousseff, Gates Foundation co-chair Melinda Gates, US First lady Michelle Obama, former US Secretary of State Hillary Clinton, and Facebook COO Sheryl Sandberg in the top spots.
In April, the United Nations General Assembly confirmed her appointment by the Secretary-General, Ban Ki-moon, as UNDP Administrator for a second four-year term. Helen Clark took up her post as Administrator of UNDP in April 2009 after serving three consecutive terms as Prime Minister of New Zealand. She is the first woman to lead the UN's global development network and chairs the UN Development Group.
"During my second term, sustainable human development and poverty eradication will continue to be at the heart of what UNDP does," she said at the time of her reappointment. "I will remain firmly focused on MDG achievement and on accelerating efforts up to 2015 and beyond. I look forward to implementing this vision and to making UNDP an ever more transparent, accountable, and effective organization."
Foreign Policy magazine, in its May-June 2013 issue, included Helen Clark in "The FP Power Map: The 500 most powerful people on the planet" http://www.foreignpolicy.com/articles/2013/04/29/the_500_most_powerful_people_in_the_world, while American University this week ranked her among its top 20 Women Changing the World http://ironline.american.edu/20-women-changing-the-world/
UNDP partners with people at all levels of society to help build nations that can withstand crisis, and drive and sustain the kind of growth that improves the quality of life for everyone. On the ground in 177 countries and territories, we offer global perspective and local insight to help empower lives and build resilient nations.