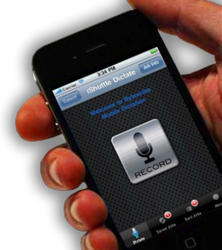 The best part of our business model is our commitment to friendly, informed, customer service.
Bethesda, MD (PRWEB) May 24, 2013
The Dictation Source recently added two national hospital chains to its growing base of clients. As a result of its National marketing efforts, the Maryland-based company proudly reports a presence in 20 states around the nation.
Since 1991, The Dictation Source has been providing medical transcription services to the healthcare industry. Dictation Source is owned and operated by Registered nurses who use their years of clinical work experience to provide the solutions and services medical professionals need to allow for accurate and timely reporting of their patients conditions.
As The Dictation Source grows, the company is careful to manage that growth, judiciously adding new clients while ensuring current client services remain uninterrupted. As James Winkler, RN, co-owner of The Dictation Source, LLC, emphasizes, the company's first priority is providing top-notch customer service to hospitals, clinics, surgery centers, and private physician practices.
"Our clients are telling us that the best part of our business model is our commitment to friendly, informed, customer service," says Mary Ann DiMola, RN co-owner of Dictation Source, LLC. "Having senior company personnel answering the phones and assisting clients with issues or questions as paid off for us in a very big way."
The Dictation Source provides a variety of transcription options to its clients. A toll-free recording system that can be set up to mimic any of the popular systems allows medical professionals a smooth and effortless transition to our company. For clients with smartphones or tablets, The Dictation Source can also receive and transcribe digital voice files recorded on iPhones or iPads. Transcriptions are returned to clients through secure file transfer software or an easy-to-use web portal, which allows clients to manage transcriptions from home or the office. Each transcription can be formatted using one of The Dictation Source's tried and true professional templates, further saving medical professionals time on formatting. Free remote printing is also available for clients who would like this option.
A built-in electronic signature feature lets medical professionals certify that a transcription has been reviewed for accuracy. The Dictation Source's customers are impressed by the accuracy of the company's transcriptionist, especially since The Dictation Source's prices are so reasonable. Rates are guaranteed to be at least ten percent below what medical facilities are currently paying, with The Dictation Source paying the difference if a customer finds they aren't.
Each transcription can integrate with a medical practice's electronic medical records. Customers also have the peace of mind of knowing that all of The Dictation Source's services are HIPAA compliant, with all transmissions sent using the strictest industry security standards.
With above-average turnaround times, The Dictation Source can provide faxing and remote printing services at no additional charge. Normal turnaround on transcriptions is 24-36 hours, with most facilities receiving transcriptions the next business day after they are sent to The Diction Source. For an extra charge, The Dictation Source can return transcriptions in as little as 1-2 hours, with 4-6 hour turnaround available for a smaller surcharge.
The signing of new clients is always welcome news to The Dictation Source, but the company remains committed to providing personalized service to each of the medical professionals it serves. For more information about The Dictation Source's services, visit http://www.thedictationsource.com/.