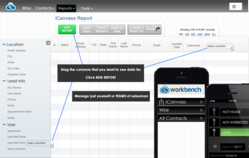 This now gives sales managers the ability to manage dozens of salesman and report on them in real time.
Dallas, TX (PRWEB) May 24, 2013
iCanvass, the powerful new sales app that champions an easy 'knock, tap, keep track' approach to canvassing, has announced the addition of its first custom feature. Launched earlier this month to critical acclaim, the sales app will now offer an external CRM integration option, allowing any company using any CRM system to integrate their iCanvass data on demand.
Workbench (a CRM launching June 1st) quickly saw the opportunity to integrate and is already giving demos to hundreds of companies. Workbench users can now use iCanvass directly from the Workbench Mobile app and all of their pins are stored automatically. "This now gives sales managers the ability to manage dozens of salesmen and report on them in real time," explained Bryan Bulte. "Before, users had to email their Excel spreadsheets, now they populate automatically. Add the powerful reporting capabilities of Workbench and it became a really good fit."
The integration of the iCanvass app and the firm's existing or preferred CRM system will be programmed by the iCanvass development team on demand. This option allows any business to create its own sales system for noticeably more efficient lead generation and management process.
iCanvass developer Trey Gibson said, "iCanvass is an extremely powerful prospecting tool which can now be leveraged to even greater effect. Our new custom programming option for third party CRM integration is just one of a series of new functions and capabilities that we plan to roll out. Our programming team code the integration manually on demand, making this option suitable for any business serious about getting more from its sales team and keen to use iCanvass to manage their prospecting."
Designed by an experienced team of sales professionals, iCanvass turns any smart phone or hand held tablet into a powerful prospecting tool. For each door knocked on, the canvasser selects whether the potential customer was interested, not interested or not home and records lead information such as address and contact details. The app can also be used to create appointments and set reminders. Leads can be viewed on a map to help the salesman work efficiently and all data can be exported to a CSV file and sent out at the touch of a button. Businesses requesting third party CRM integration can import all of this lead intelligence directly into their own CRM system.
To find out more about iCanvassApp and to request custom integration, please visit http://www.iCanvassApp.com
About iCanvassApp.com: Knock, Tap, Click. iCanvassApp is the latest feature-packed app from Epsilon Holdings. Developed for canvassers and professional salespeople it records sales data on the go with an intuitive interface, smart lead recording tools and handy map views. Now this data is being automatically extracted into other CRM systems which increases the possibilities and effectiveness tenfold.