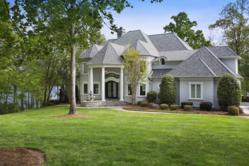 "Sellers of luxury real estate are expanding the marketplace globally to attract highly qualified buyers to their properties, and the intensive marketing surrounding an auction is a perfect solution," stated Stacy Kirk Reich.
Charlotte, N.C. (PRWEB) May 23, 2013
When placing their 9,000-square-foot Lake Norman home on 190 feet of shoreline up for sale, the owners of this elegant waterfront home decided they wanted to reach a broader market than what traditional real estate listings could provide. They found their solution with Charlotte-based Grand Estates Auction Company, which specializes in creating comprehensive global marketing campaigns for luxury properties and selling those properties to the highest bidder at auction. The Lake Norman luxury home will be offered at absolute auction on Tuesday, June 18th at 2:00 p.m. by Grand Estates Auction Company.
Sellers of luxury properties in particular are looking for ways to distinguish their property in the marketplace, and are increasingly turning to specialists like Grand Estates Auction Company that provide targeted advertising, direct marketing, public relations and social media marketing to attract a qualified global audience. Unlike traditional listings where local traffic is the driving factor, live auctions attract a select pool of qualified and highly interested bidders nationwide and beyond.
"Sellers of luxury real estate are expanding the marketplace globally to attract highly qualified buyers to their properties, and the intensive marketing surrounding an auction is a perfect solution," stated Stacy Kirk Reich, president of Charlotte-based Grand Estates Auction Company. "Buyers benefit from the opportunity to set their own price, and on June 18th, one lucky bidder will do so in Lake Norman."
Auctions are becoming increasingly popular with buyers and sellers of luxury real estate throughout the world due to their timeliness and transparency. There are no contingencies, no lengthy negotiations, and timelines for closing are already established. To help buyers make an informed purchase, a comprehensive due-diligence packet is available, and ample time is allotted for tours and inspections prior to the auction. Similar to rare artwork that does not have comparable pieces to set the value, exceptional properties such as this are well suited for auction, where bidders set the market value.
Tucked between the lush forest and shimmering water, the elegant waterfront retreat is perfect for entertaining and boasts six bedrooms, six full bathrooms and two half bathrooms in addition to 1,500 square feet of outdoor stone and brick patios and balconies. The master bathroom includes a spa-like master bathroom and fireplace, the gourmet kitchen features state-of-the-art appliances, there are five gas fireplaces throughout the home, and every aspect of the home provides livable luxury and stunning waterfront views. The property also features a 100-foot dock, 3-car garage, wine cellar, game room, exercise room, playroom, workshop and horseshoe/bocce ball area.
Lake Norman is the largest manmade body of water in North Carolina. At almost eight miles wide with over 520 miles of curving shoreline and 50 square miles of surface, it is a boater's and watersport enthusiast's playground. The lake also provides a tranquil retreat from the hustle and bustle of Charlotte, just a 20-minute drive away, yet this exclusive community offers every contemporary convenience, with excellent dining, recreation, and shopping opportunities. The Point on Lake Norman is home to the Trump National Golf Club, Charlotte. More than two-thirds of the holes on the Greg Norman designed course play directly along or over the water of Lake Norman. The club also offers tennis, an aquatic and fitness center, and dining facilities.
The auction will start promptly at 2:00 p.m. on Tuesday, June 18th. Provisions for remote bidding can be arranged. The property will be available for prospective bidders to preview beginning Friday, June 14th, at 11:00 a.m., with daily preview times scheduled through the date of the auction. Buyers may contact Grand Estates Auction Company's auction information office to schedule an appointment during one of the preview times at 877-376-9560. A $100,000.00 certified check or personal check along with a bank letter of guarantee will be required to register to bid. Real estate agents and brokers are fully protected and encouraged to participate.
Grand Estates Auction Company is the leader in the niche market of auctioning luxury real estate, specializing in properties valued at $1.5 million and above throughout North America and the Caribbean. Established in 1999, the company was the first of its kind. The company is based in Charlotte, N.C. with offices in Atlanta, Naples, Fla. Aspen, Colo., and Vail, Colo. For more information and auction details visit http://www.GrandEstatesAuction.com.