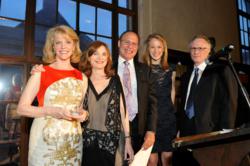 I am all the better for knowing that DOROT will always be there for me as I grow older
New York, NY (PRWEB) May 23, 2013
"We live in a society where families and grandparents no longer live in the same community and you don't experience the special interaction between young and old," said Diane Katzin. "I wanted to get involved with an organization that gave young people the chance to see aging up close."
Diane came upon that organization—DOROT—in 1996, and hasn't looked back since. Along the way, she was joined in her involvement by her husband, Rick Kurnit, a media lawyer, and their daughter, Katrina.
On May 21, 2013, DOROT honored this dedicated family at its 37th Annual Spring Benefit in The Reading Room at The New York Academy of Medicine. Collectively, they have volunteered at Holiday Package Deliveries and the Thanksgiving Banquet. Diane became a staunch supporter of DOROT's teen volunteer programs, serving on the Youth Advisory Board and securing critical funding for those programs. She joined the Board of Directors in 2001, the same year that Rick began teaching classes on DOROT's University Without Walls teleconference program.
"DOROT is there for me, providing instruction, perspective, intelligence, engagement, beauty and charm and fun," Rick said. "And I am all the better for knowing that DOROT will always be there for me as I grow older."
The couple's daughter Katrina helped launch Next Generation, DOROT's Teen Leadership Council, which mobilizes younger generations to improve the lives of the elderly. Graduating seniors who are members of Next Generation were also honored at the Spring Benefit, which featured a performance by cabaret artist Carole J. Bufford.
The event was co-chaired by DOROT Honorary Board member Renée Adler Ascher and Michael Frankfurt, Rick's partner in the law firm of Frankfurt Kurnit Klein & Selz, PC.
Additional photos from the event can be viewed at http://www.dorotusa.org.
Since 1976, DOROT has worked to alleviate social isolation among the elderly and provide services to help them live independently as valued members of the community. We serve the Jewish and wider community, bringing the generations together in a mutually beneficial partnership of elders, volunteers and professionals.