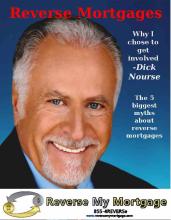 Reverse My Mortgage wants to offer resources to educate their potential clients.
Salt Lake City, Utah (PRWEB) May 22, 2013
What is offered from the reverse mortgage pros?
Getting a reverse mortgage equity plan can be a strong solution for many people. They have designed their online tools to help people with the calculations and the future
Planning of their financial situation.
Getting a reverse mortgage plan can help to take the stress away and give people of the retired age what they want, relaxation and a stress free life. By receiving these types of loans the headache of having to make monthly bills and worrying about taxed money goes out the window and one will still be allowed to leave their home and equity to their children, family, or loved ones. Receiving one of these loans can help assure people that their home and assets will be protected.
By using the equity that one has on their home, they can get a loan depending on how much equity they have and on what their age is. People that get approved for a reverse mortgage equity plan can have their monthly house payments taken care of as long as they live there or until they pass away.
How can someone know if a reverse mortgage loan is right for them?
RMM has created their own online tool to help people calculate to determine if getting these type of loan is right for them. This online calculation tool has been beneficial to many users in determining if their financial situation is right for a reverse mortgage equity plan. In coordination with our financial experts these online resources can help assist in the decision making process: by creating their reverse mortgage calculator, they have given people the opportunity to get an idea of what type of lump sum, monthly income, how much they could get for medical bills, etc.
People that are interested in receiving these types of loans often worry about what types of negative effects these loans can have. FHA has a guarantee that if somebody is un able to make their payments that the person's family and loved ones will be protected. This type of guarantee is offered from experience reverse mortgage pros to ensure the safety of their customers assets, equity, and most importantly their loved ones. For more information about RMM please visit: http://www.mortgagereversecalculator.com/.