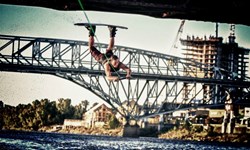 Shreveport, LA (PRWEB) May 22, 2013
USA Wakeboard is heading back to the Red River for this year's Collegiate Wakeboard National Finals, May 24-26, at Riverview Park in downtown Shreveport.
The finals will feature 12 teams with seven riders each working their way through seven different heats. Competing universities include Central Florida, University of Miami, Florida State University, Oklahoma State University, University of Louisiana at Monroe, University of Wisconsin, Louisiana Tech University, Texas Tech University, San Diego State, and Arizona State. Several riders from other universities will compete for individual honors.
Wakeboarding is a fast-paced, outdoor, surface watersport, which involves riding a wakeboard over the surface of a body of water at a high speed, while executing stunts without falling. Admission to the finals is free for spectators.
"In October there were 122 riders in attendance from 11 teams and close to 1,000 spectators over the course of the weekend," said Nick McDonald, Director of Collegiate Wakeboarding. When asked about attendance projections McDonald added, "With Mudbug Madness, Memorial Weekend and it being nationals, I'm anticipating about 5,000 to 7,000 spectators over the course of the three days."
This event coincides with the 30th Annual Mudbug Madness Festival, one of Louisiana's largest and most popular crawfish festivals. The four-day festival is held each Memorial Day weekend, features the best in Cajun, zydeco, blues and jazz music, and southern cuisine such as boiled crawfish, crawfish etoufee', seafood gumbo and much more.
High resolution images of the 2012 Wakeboard South Regional event are available. For a full sports calendar of events in Shreveport-Bossier visit http://www.shreveportbossiersports.com