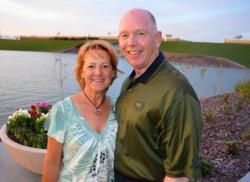 Phoenix, Arizona (PRWEB) May 28, 2013
Searching for the perfect active adult community to enjoy during retirement creates all sorts of questions. Do you want to live somewhere else? If so, where? Do you want warmth and sunshine? Do you want to stay close to family? Do you want a condo or single family home? With questions like these, doing your homework is important. As is starting early.
According to research conducted by ProMatura, a global market research and advisory firm specializing in 50+ consumers, active adult home buyers visit an average of 4.6 active adult communities before making a final purchase decision, and they visit the community that they ultimately choose an average of 3.8 times before making that final decision. Unless you're Lori Rust and her husband Kevin Jordan.
Lori and Kevin began their search for the best retirement location at age 50. Six years, six states and thirty-five communities later, they believe they have found "home." The two, living in Denver, Colorado at the time their search began, thought about the longevity of their careers – Kevin in high tech sales management and Lori in software solutions for the retail industry – and what they wanted to do with the rest of their lives.
"We're both analytical people," said Jordan, who is now working in real estate sales. "We needed to take the emotion out of the process and focus on things that would enhance our lives, and so we created a list of important characteristics and applied a weighted score."
Lori and Kevin used these kinds of questions for their analysis:

Is there quality golf and the ability to get tee times in peak season?
What is the average age of the residents?
What is the proximity to commercial services, culture and restaurants?
Is the cost of living reasonable?
How well-built is the home?
Do the onsite amenities match our lifestyle needs?
It wasn't an easy process. Kevin, a New York native, wanted to be close to the action with cultural and retail offerings, while Lori, who grew up in Montana, wanted open spaces, beautiful views and clean air. "We started with a blank canvas," said Kevin. We were willing to consider most everywhere in the country. We looked at the Carolinas, Florida, Texas, California and Arizona. We had to decide what areas would we enjoy, and then drill down to what state, what area, what community, and then the home. It ultimately has less to do with the house and more to do with everything else," he noted.
Also among their many considerations were a warm climate, access to quality golf and the ability to get on the course during peak season. Plus, they wanted a good value that allowed them to live within their means and still enjoy the extras. And, they wanted to be in an area attractive to fellow Baby Boomers.
For this couple, as they looked ahead to the next phase of their life, being in an area appealing to aging Baby Boomers was important. They knew they wanted to be working and interfacing with this huge demographic, the first of the 78-million Boomers began turning 65 last year. Baby Boomers were born between 1946 and 1964 and 10,000 a day are now turning 65.
"We pulled the trigger and bought in southern Arizona, but it turned out that it wasn't the right fit for my husband," said Lori, who is also now in real estate sales. "So we headed to Phoenix and had a list of active adult communities to tour. When we arrived at CantaMia, we didn't even tour the 14 model homes. "We simply asked the sales associate to tell us the best value he had available," recalls Lori. He showed them a builder inventory home – one that was already built but hadn't been sold. It was on a community lake and had open space views. It was a great value and met their criteria, but to be certain they came back and stayed in the builder's "stay and play" program called Experience CantaMia, where they could stay on site for a few days in a furnished, two-bedroom villa and enjoy the community amenities, and meet the residents.
"When researching communities, one of the most illuminating things you can do is talk to the people who live there. You'll learn more than you can imagine," said Lori. That "Experience CantaMia" stay allowed them time to test drive the community and enjoy the amenities. "We both love to work out and the fitness facility, located in the 30,000 square foot Village Center, is awesome. I also fell in love with the outdoor resort-style pool," she said. The Village Center also features a demonstration kitchen where healthy cooking classes are a regular staple of the community offerings. "We love being a part of a new community and being able to help shape the lifestyle," she said. Lori recently helped launch a garden club, learning how to nurture plants and herbs in the Sonoran desert.
CantaMia is being developed by AV Homes' Vitalia. Vitalia specializes in active adult lifestyle communities that resonate with today's retiring Baby Boomers. VitaliaHomes.com.