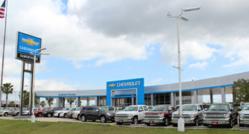 Come out and get a signed baseball by Alen Ashby and TEXT Ashby to 281281 for your chance to win one of two signed Baseball Bats!
Texas City, TX (PRWEB) May 23, 2013
For those who have been watching the construction along the Gulf Freeway for the past year, the long-anticipated transformation is now complete. DeMontrond® Texas City is proud to announce the grand opening of its new state-of-the-art facilities for Chevrolet, Hyundai, and Toyota/Scion Sales and Service.
Guests walking into the sparkling new showrooms will be welcomed by a friendly and knowledgeable sales staff and management team ready and willing to listen to their needs. The service area has been expanded, as well as the customer lounge and parts boutique section. Each department of the dealership has been refurbished and improved to create a natural flow for guests. For customer comfort they offer beverage and snack machines, a coffee bar, an inviting waiting area with ample seating, flat-screen TVs, parts and accessories boutique, and a team who aims to give exceptional experiences to everyone in the Texas City Houston metro area.
During the renovation, Melissa DeMontrond made decisions with the environment in mind, incorporating Green Technology where possible, adding EV Charging Stations that are open to all plug-in vehicle owners, and replacing existing lighting throughout the facility with new energy-efficient equipment.
The renovation grand opening is set to coincide with the Appearance of Houston Astros Veteran Catcher Alan Ashby on May 25 from 12-1 p.m. Come out and get a signed baseball by Alen Ashby and TEXT Ashby to 281281 for your chance to win one of two signed Baseball Bats! They will also have food and fun for all, including a car wash and lemonade stand benefiting the local little league, a dunking booth (never know who will be in the hot seat), and much more! All proceeds will benefit the local area little league teams and they would love to have guests join in on the fun.
DeMontrond® has been serving the Texas City/Houston area's transportation needs for decades. Dating back to 1914 when their family opened their first Buick Dealership in Waxahachie, TX, the DeMontrond® family has continued to focus on core beliefs: listen, keep promises, never lie, and give back to the community. That's why the DeMontrond® family and team always strive to help make the community stronger by giving more. Melissa DeMontrond had this to say, "Here at DeMontrond® we are driven to amaze. We have a new management team, new facility, and a new attitude! Each and every DeMontrond® team member is here to assist you with your vehicle purchase and service, and virtually every vehicle purchase includes our exclusive Warranty Forever at no cost to our guests."
"We are so pleased with our new dealership," says DeMontrond, "It's more accessible, more modern, and more attractive. Rest assured, however, that just because our team's faces and facility façade has changed, the family values that have seen us through the past are here to ensure we are here for you for decades to come!"
About the company:
DeMontrond® Texas City is a family-owned business that has been buying and selling vehicles to the Texas City/Houston area for generations. Their guests will find an amazing selection of new vehicles as well as an extensive inventory of pre-owned and certified pre-owned vehicles. Melissa DeMontrond states that her team is committed to exceeding their guest's expectations with competitive pricing as well as exceptional vehicles, service and amenities. To honor their commitment, they have invested heavily to the Texas City location by building a new Hyundai facility and totally renovating the Chevrolet and Toyota sales and service facilities. Also, in January 2013, DeMontrond® obtained the exclusive rights to offer Warranty Forever on almost every new and used vehicle at no cost to their guests. They invite guests to come out and take a tour of the new facilities, inventory and ask any questions about Warranty Forever and the new 2014 Chevrolet Impala.