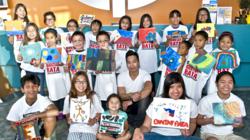 Our philanthropy starts at our home, at TFC.
Redwood City, Calif. (PRWEB) May 23, 2013
ABS CBN Foundation International believes that charity starts at home and starts early. Hosting Kids heART Bantay Bata, the nonprofit partners with Filipino-American artist Paolo Mejia whose work and advocacy supports emerging artists and designers to raise awareness and increase support for the foundation's flagship program, Bantay Bata (Child Watch Philippines). The art classes, attended by children of the employees of The Filipino Channel (TFC), are a venue to create original art that will be reproduced on cards, made available with minimum donations to the charity. Its proceeds will support the multi-awarded initiative that rescues and rehabilitates impoverished, abused, and neglected children in the Philippines.
The program is inspired by Bantay Bata's first rescue in 1997, Jessie, a then 6-year old boy found under a kitchen sink, pale and severely malnourished that his arms were no thicker than ladles. The lives of thousands of children like Jessie who suffered from abuse were changed with rescue, immediate medical attention, and recovery at the Children's Village where love, care, and healing proved a potent formula for rehabilitation. Now 21, Jessie's gift of artistry with remarkable perspective and proportion have brought him solo art exhibits and global support for awareness on children's rights.
Having grown up around ABS-CBN, the Philippines' largest broadcasting network, Jessie's art has consistently focused on towers, OB vans, and the station's ringed logo, with a focus on the cube: a healing homage to the box from which he was rescued.
The corporate social responsibility arm of ABS-CBN International and The Filipino Channel (TFC), ABS CBN Foundation International engages the children of the global network's employees in a campaign to support Filipino children whose lives have yet to be turned around.
"Our philanthropy starts at our home, at TFC," says Jo Ann Kyle, Managing Director for ABS CBN Foundation International. "The children are deeply engaged and understand that they paint for a purpose. Knowing that kids as young as 4 years old create art with the less fortunate in mind gives a more layered and solemn beauty to their raw talent."
Notecard reproductions of their art will be available at the Philippine Independence Day Council, Inc. (PIDCI) parade in New York on June 2, 2013 and online at http://www.abscbnfoundation.org beginning July 2013.
"Charity is more than monetary; it is a service to help those in need and a way to improve life," said philanthropic artist Paolo Mejia. "The art class taught at the ABS-CBN International studio is just one way to share and empower the creativity in children, and to make their craft more meaningful."
Sixteen years later, Bantay Bata has helped countless children lead lives of promise, guided with compassion, safety, and respect for their humanity. Through the report of abuse, many victims have been freed from the crutches of fear. Through the global community and the charity of the children of TFC, this work continues.
To learn more about ABS CBN Foundation International and opportunities to support its programs, visit http://www.abscbnfoundation.org.
##
ABOUT ABS CBN FOUNDATION INTERNATIONAL:
ABS CBN Foundation International is a 501(c)3 non-profit organization dedicated to improving the lives of disadvantaged Filipino families in the Philippines and around the world. Its flagship program, Bantay Bata (Child Watch), is a child abuse rescue operation that responds to an average of 15,300 calls for assistance a year. The program assists more than 21,000 children and families in relocation communities and feeds at least 4,400 severely malnourished children a year. Its education program serves 4.2 million elementary school children and their teachers. Other programs include Sagip Kapamilya (disaster rescue, relief and rehabilitation), ETV in schools (school reform in elementary schools) and Sagip Kalikasan (environmental programs).
In the United States, the organization partners with Filipino-American organizations and associations in addressing community issues--youth truancy, housing, issues affecting the elderly, health, and emergency needs. For more program information, visit http://www.abscbnfoundation.org.