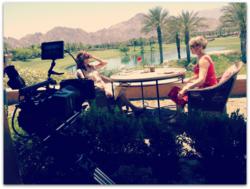 Used online and in presentations, the video is a dynamic sales asset designed to give viewers a vivid virtual experience of the lifestyle that comes along with the address," says Marcie Graham, Director of Sales and Marketing for Point7West
Indian Wells, CA (PRWEB) May 22, 2013
As luxury home sales continue to lead the rebounding U.S. housing market with an impressive 34% increase in Q1 2013 from Q1 2012, Toscana Country Club takes a strategic marketing approach with a Point7West produced real estate video that enables prospective buyers to experience the private country club's lifestyle from the comfort and convenience of any location in the nation and around the world. Showcasing the property and providing a video profile of the social activities and lifestyle enjoyed by its members, Toscana Country Club is able to reach buyers thousands of miles away from the more traditional appointment-only tours.
At just under three minutes, the marketing real estate video reveals the prominence of the grounds and Tuscan inspired architecture, and effectively gives an insider's peek at the club's amenities through engaging testimonials of current home owners and members. Featuring 36-holes of Jack Nicklaus signature golf, a 13,500 square foot trattoria with a covered terrace, wine cellar and lounge, a full-service spa, and a sports club, the sprawling property is located in Indian Wells, California, widely considered to be one of the most desirable zip codes in the nation. "Used online and in presentations, the video is a dynamic sales asset designed to give viewers a vivid virtual experience of the lifestyle that comes along with the address," says Marcie Graham, Director of Sales and Marketing for Point7West.
ABOUT POINT7WEST
Point7West is a marketing video production company that has specialized in providing strategic video solutions for over 250 companies nationally and abroad, for more than a decade. Point7West produces award-winning, creative videos for business and other organizations in a wide range of industries.