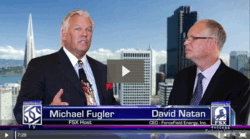 San Francisco, California (PRWEB) May 28, 2013
FSX Investment Conference held their recent event in San Francisco, California. The companies that presented at this Investment Conference had the opportunity to be interviewed by Interlinked. ForceField Energy Inc. CEO, David Natan, granted an exclusive interview available at ForceField's Public Profile on Interlinked's IDeal Room.
During the interview Mr. Natan explained that ORC, Organic Rankine Cycle, is a technology that has been around since the 1970s that takes waste heat and converts it into clean electricity.
"For example, if you have smoke that dissipates into the environment from an industrial smoke stack or a steal plant, what we do is with some simple piping we take that smoke that would've dissipated into the environment, run it through 5 pieces of equipment, and generate electricity from that process."
Mr. Natan added that "there are a number of companies that do that since the 1970s, a proven technology with about 5 to 8% return on investment, but Forcefield Energy, Inc. has taken this to another level. That ORC system requires center fluids to run throughout that are toxic to the environment if they escape a closed loop system. ForceField's are environmentally friendly, and what is really unique is that they work at temperatures where other ORCs do not."
For more information watch the complete interview and visit ForceField Energy's public profile on Interlinked's IDeal Room https://members.interlinked.com/?c=ForceFieldEnergy
ABOUT FORCEFIELD ENERGY
ForceField Energy is an international provider of diverse, innovative energy technologies and synergistic products. For more information visit http://www.forcefieldenergy.com
ABOUT INTERLINKED
Interlinked is designed to be the most efficient and powerful system available in assisting its members in finding one another, building relationships and ultimately do business together. Interlinked is a private network and it is not open to the public. You must be invited or apply to be part of the community. Our proven process utilizes four primary systems: one, through our custom automated campaigns (IRocket), second through media InterlinkedTV, thirdly our Ideal room, fourth, through our relationships with strong partners and events. For more information go to http://www.interlinked.com.
Safe Harbor Statement
This press release may contain information that constitutes forward-looking statements made pursuant to the safe harbor provisions of the Private Securities Litigation Reform Act of 1995. All statements, trends, analysis, and other information contained in this press release, including words such as "anticipate," "believe," "plan," "estimate," "expect," "intend," and other similar expressions of opinion, constitute forward-looking statements. Any such forward-looking statements involve risks and uncertainties that could cause actual results to differ materially from any future results described within the forward-looking statements. Risk factors that could contribute to such differences include those matters more fully disclosed in the Company's reports filed with the Securities and Exchange Commission. The forward-looking information provided herein represents the Company's estimates as of the date of the press release, and subsequent events and developments may cause the Company's estimates to change. The Company specifically disclaims any obligation to update the forward-looking information in the future. Therefore, this forward-looking information should not be relied upon as representing the Company's estimates of its future financial performance as of any date subsequent to the date of this press release.