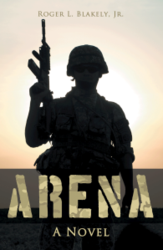 Author Roger Blakely Jr. draws on his military background of more than 30 years when writing novels.
TOMAH, Wis. –
(PRWEB) May 23, 2013 -- After serving in the Army for 32 years, all 50-year-old Army Chief Warrant Officer Four Artemus Newton wants is a quiet retirement. Newton, the star of this new novel, spent most of his career sitting behind desks around the world. He and his cat, Gus, now call a Chicago suburb home, and he's still recovering from getting shot in the shoulder during an eventful vacation in Germany. Soon he's in a new fight, however, and this enemy might be unstoppable.
"Arena: A Novel" is the second in a series of suspense thrillers starring Artemus Newton and his friends such as the beautiful CIA agent Alexis Lee who was with him during his last adventure. A secret council of highly ranked men and women from around the world gather to discuss their plans for worldwide domination – bringing the world under a single government free from religion of any kind, relying only on human reason and wisdom. One of Alexis' CIA rivals is part of the council and sets a plan in motion, including a mission designed to kill top Army officials and the detonation of a nuclear bomb. An unexpected accident exposes the plot, but it also leads to a desperate situation for Artemus and Alexis, who must use all their wits if they hope to survive.
Author Roger Blakely Jr. draws on his military background of more than 30 years when writing novels. Blakely is an Army chief warrant officer assigned to the Army Reserve 88th Regional Support Command at Fort McCoy, Wis. He served six months at an Army airfield in Kuwait during Operation Iraqi Freedom in 2003 and received a Bronze Star recipient for his service in the desert. Blakely's Army career includes service in Germany, Illinois, Kansas and Alabama. "Chief" is the first novel starring Artemus Newton.
----------
For additional information, please visit http://www.TheArtemusNewtonThrillers.com.
Arena: A Novel
Roger Blakely Jr.
Dog Ear Publishing
ISBN: 978-1-4575-1883-6 240 pages $13.95US
Available at Ingram, Amazon.com, Barnes & Noble and fine bookstores everywhere.
About Dog Ear Publishing, LLC
Dog Ear Publishing offers completely customized self-publishing services for independent authors. We provide cost-effective, fast, and highly profitable services to publish and distribute independently published books. Our book publishing and distribution services reach worldwide. Dog Ear authors retain all rights and complete creative control throughout the entire self-publishing process. Self-publishing services are available globally at http://www.dogearpublishing.net and from our offices in Indianapolis.
Dog Ear Publishing – self-publishing that actually makes sense.