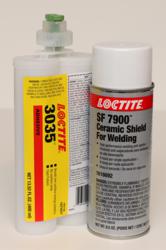 Rocky Hill, Conn. (PRWEB) May 24, 2013
Henkel Corporation has announced that two products in their Loctite® line of adhesives, sealants and coatings have received gold level recognition as best new products of the year by New Equipment Digest in the annual King Awards competition.
Loctite® 3035™ Polyolefin Bonder, an innovative two-part acrylic adhesive for bonding low surface energy polyolefin plastics, took the gold level award in the assembly/fastening/tools category. The easy to use, 1:1 mix ratio adhesive stores at room temperature and fixes to plastics and metals in less than 15 minutes without surface preparation or primers. The polyolefin bonder achieves superior bond strength on PP, PE, HDPE, LDPE, ABS, nylon and other polyolefin plastics, and offers good environmental resistance in a range of end-use applications.
In the metalworking category, Loctite® SF 7900™ Ceramic Shield for Welding was selected as the gold level winner. This silicone-free, sprayable protective coating prevents spatter adhesion on MIG/MAG welding equipment for up to 8 hours with just one application. Spraying on easily and drying in seconds, the coating increases welding productivity by shielding contact tips, welding nozzles, shrouds and jigs from spatter, and eliminating the downtime normally required for equipment cleaning. Loctite® SF7900™ can also be used to protect power cables, sensors, metal components, and the jaws of spot welding systems for up to one week.
For more infomation on Loctite® 3035™ Polyolefin Bonder and Loctite® SF 7900™ Ceramic Shield for Welding, go to http://www.henkelna.com/3035 and http://www.henkelna.com/sf7900 or call 1-800-LOCTITE (1-800-562-8483).
Henkel operates worldwide with leading brands and technologies in three business areas: Laundry & Home Care, Beauty Care and Adhesive Technologies. Founded in 1876, Henkel holds leading global market positions in consumer and industrial businesses with well-known brands such as Persil®, Schwarzkopf® and Loctite®. Henkel employs about 47,000 people, and has reported sales of $21.13 billion with adjusted operating profit of $2.98 billion in fiscal 2012. Henkel's preferred shares are listed in the German stock index DAX.
# # #