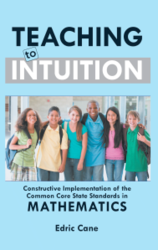 Basing teaching strategies on intuition allows students to give their full acquiescence to the truths of mathematics and accept mathematics as an emanation of their own thinking processes and mental patterns.
CARMICHAEL, Calif.
(PRWEB) May 23, 2013 -- Leaders in all fields of life in the United States see in the country's deficiencies in math education an existential threat to the economic well-being and international standing of the nation. Typically, most community colleges spend valuable resources teaching remedial classes on elementary and middle school topics. It is with those topics, in the early grades, that the gaps begin, this new book notes, where children fail to connect with mathematics, where too many children lose ground and lose hope.
Basing teaching strategies on intuition allows students to give their full acquiescence to the truths of mathematics and accept mathematics as an emanation of their own thinking processes and mental patterns. So the approach presented in "Teaching to Intuition," and the quite original strategies that implement it, make for more knowledge, not less, more understanding, and a greater ability to recognize in the outside world circumstances that can be analyzed and enlightened by the tool of mathematics. It makes for students who willingly accept that mathematics is an integral part of their mental make up, just because it makes sense. The hope is that it dramatically increases the pool of students willing and able to fully participate in a world shaped by science and technology.
The book is addressed to all educators who teach those elementary and middle school topics, either because they teach in those grades or because they teach the topics as remedial material in high schools and colleges. It is addressed to educators and policy makers concerned about the vast gap between the needs of the nation in Science, Technology, Engineering, and Mathematics (the STEM disciplines) and the significant proportion of those who have no chance of entering those fields because they have never learned to connect with the tool of mathematics. Readers may also include parents actively involved and concerned with the education of their children.
"Teaching to Intuition" is written in a down-to-earth, conversational style, using examples taken from topics of mathematics that all citizens should want to master. It is, however, an ambitious book, as it takes an issue that most agree upon -- the significant gap in mathematical competence between the needs and the reality --- and proposes solutions that go to the heart of the problem, not by doing what we have always done a little bit better, but by doing it differently.
"Teaching to Intuition" comes at a time when, nationwide, Common Core Standards seek to put significantly greater emphasis on the constant interaction between mathematical knowledge and the real world it helps us understand and influence. Edric Cane hopes his new book is part of the discussions and changes that those standards will generate.
Author Edric Cane has a Ph.D. from the University of Michigan and spent two years as a Besse Scholar at Oxford University, England. He taught math at a school with 95 percent minorities in the Los Angeles Unified School District. Other teaching posts were in Europe, Africa, Oberlin College in Ohio and Occidental College in Los Angeles. He also wrote the book "Making Friends with Numbers."
----------
For additional information, please visit http://www.TeachingToIntuition.com.
Teaching to Intuition: Constructive Implementation of the Common Core State Standards in Mathematics
Edric Cane
Dog Ear Publishing
ISBN: 978-1-4575-1865-2 194 pages $16.95 US
Available at Ingram, Amazon.com, Barnes & Noble and fine bookstores everywhere.
About Dog Ear Publishing, LLC
Dog Ear Publishing offers completely customized self-publishing services for independent authors. We provide cost-effective, fast, and highly profitable services to publish and distribute independently published books. Our book publishing and distribution services reach worldwide. Dog Ear authors retain all rights and complete creative control throughout the entire self-publishing process. Self-publishing services are available globally at http://www.dogearpublishing.net and from our offices in Indianapolis.
Dog Ear Publishing – self-publishing that actually makes sense.