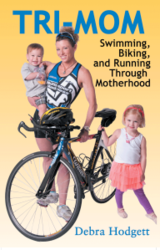 This new book features stories and strategies for balancing triathlete training and racing with family responsibilities.
West Chicago, IL (PRWEB) May 30, 2013
Since her first triathlon in 2001, author Debra Hodgett has been hooked on the physically and mentally demanding sport, and she's not alone. An estimated 2.3 million U.S. residents completed a triathlon in 2010, according to a 2011 report by the Sporting Goods Manufacturers Association. About half of those were women, with the largest female age group in the sport made up of women in their early 30's to late 40's. Lots of them were mothers. This new book features stories and strategies for balancing triathlete training and racing with family responsibilities.
In "Tri-Mom: Swimming, Biking, and Running through Motherhood," Hodgett describes with humor her experiences training as a busy mom, like practicing at a track while her children and a friend play in the sand of the long jump pit, and turning her group swim practice into a game counting laps. Visiting their vacation home in southern Illinois allows Hodgett long bike rides and the chance to rescue turtles, which fit conveniently in her bike shorts or bike shirt pocket. Shoehorning training into busy schedules can come with downfalls like being known as the "stinky" volunteer mom because there's no time to shower between class and helping at school.
Hodgett, however, offers quick solutions: wear a ponytail and extra wide headband to disguise sweaty hair, put on a cute jogging outfit over stinky workout clothes, throw on a strapless cotton dress after hitting the pool, and apply makeup while sitting at red lights.
Although Hodgett headed up the project, the book also includes stories from fellow "tri-moms" Carla Hastert, Lindsay Zucco, Christine Palmquist, Jennifer Garrison, Elizabeth Waterstraat and Jennifer Harrison. They share their humorous and touching moments of being "tri-moms," as well as their insights into training-life balance and tips on staying organized. All face new challenges once they have children but new joys as well. Part inspirational and part motivational, moms of all athletic ability will appreciate this book that celebrates the spirit of these dedicated athletes.
Author Debra Hodgett began running track in middle school and added cross-country running in college at Olivet Nazarene University. She has belonged to Power Bar Team Elite since 2006 and received four USA Triathlon All American honorable mentions and competed in three International Triathlon Union short course world championships. She was named USAT All American in 2007, completed her first marathon in 2010 and qualified for the 2012 Boston Marathon. Hodgett earned a Master's degree in Gerontology from Concordia University and trained to become a hospice volunteer. She and her husband, David, have two boys.
----------
For additional information, please visit http://www.tri-mom.com.
Tri-Mom: Swimming, Biking, and Running through Motherhood
Debra Hodgett
Dog Ear Publishing
ISBN: 978-1-4575-1762-4
232 pages
$15.95 US
Available at Ingram, Amazon.com, Barnes & Noble and fine bookstores everywhere.
About Dog Ear Publishing, LLC
Dog Ear Publishing offers completely customized self-publishing services for independent authors. We provide cost-effective, fast, and highly profitable services to publish and distribute independently published books. Our book publishing and distribution services reach worldwide. Dog Ear authors retain all rights and complete creative control throughout the entire self-publishing process. Self-publishing services are available globally at http://www.dogearpublishing.net and from our offices in Indianapolis.
Dog Ear Publishing – self-publishing that actually makes sense.