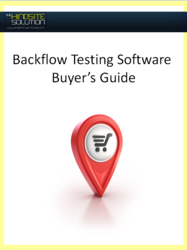 I found backflow testing software helped my tester perform 25% more tests. That's a significant return on a relatively small investment.
St. Paul, MN (PRWEB) May 22, 2013
Residents of a trailer park in New York started getting sick in April of 2002. When authorities investigated, they found that the water had been contaminated because a power outage had created a negative pressure system in the distribution system. As a result, contaminated water had entered the system through a cross connection in a resident's home.
A simple backflow prevention device could have prevented the contaminated water from entering the system and harming the residents. To prevent these kinds of accidents, many cities, counties and states require backflow prevention devices and periodic testing of those devices on all cross connections with potential contamination sources, like cooling or irrigation systems.
As a result, many plumbing and irrigation businesses test backflow devices for their customers on an annual basis, or as required by city codes. The process can be an onerous, paper-laden one for those businesses. Managing scheduling and dispatch paperwork, test result paperwork, filing results with the city (each with different forms and filing requirements), and customer invoicing is a chore.
What was a fairly simple service – testing the backflow device – can turn into a time-consuming ordeal. It's why many backflow prevention service providers have turned to backflow testing software to automate the process.
To help those providers understand what to look for in backflow testing software, HindSite Software recently released the Backflow Testing Software Buyer's Guide. The eBook, written by HindSite's President and a former backflow testing service provider, David Crary, highlights the things to look for in backflow testing software, the questions to ask potential vendors, and how software has revolutionized other businesses.
"When I delivered backflow testing services, I found that my techs were wasting as much as a quarter of their time filling out paperwork, " explains Crary. "My office staff then had to transpose those often illegible notes onto the required paperwork. And also onto invoices for our customers. It was a nightmare to manage, wasted time that could have been spent performing more tests, and led to constant errors in reporting and billing."
So when Crary began developing irrigation software for his business, he added functionality that could help him manage his backflow testing business. It revolutionized his business.
"Because the typical business delivering backflow testing services only has one or two testers, they don't think software can really help.," explains Crary. "But it truly can. I found backflow testing software helped my tester perform 25% more tests. That's a significant return on a relatively small investment."
As a result, Crary decided to write an eBook to help backflow testing businesses understand why making an investment in backflow testing software was vital and what to look for in that software.
The Backflow Testing Software Buyer's guide is available as a free download at http://www.hindsitesoftware.com/backflow-testing-software-buyers-guide.cfm.
About HindSite Software
HindSite Software has helped contractors better manage and grow their business with field service software since 2001. Initially designed as irrigation software, HindSite today assists service businesses with scheduling and billing, contact and contract management (e.g. field service CRM), field data collection, and invoicing in QuickBooks®, Sage Peachtree®, and Simply Accounting®. This paperless field service management software has been proven to increase efficiency and organization, meaning greater profit potential with less administrative time.