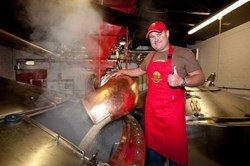 Guests learn – and sip – their way through South Africa's rich brewing history.
Denver, CO (PRWEB) May 29, 2013
Part South African pub crawl, part home brewer's hands-on workshop, part African wildlife safari, the new "South Africa Hops and Hippos" 13-day brewery tour and Africa safari from Africa Adventure Consultants (AAC) combines the best of all worlds for adventurous beer lovers and home brewers alike.
Africa Adventure Consultants' in-depth Hops and Hippos safari traces the beer-making craft to its 1658 Cape Town roots, visiting the home of a woman who still brews traditional African beer by the ancient method. Behind-the-scenes tours of South African commercial breweries (including the oldest, opened in 1820), chats with hop-masters, artisan beer tastings, and a visit to the must-see SAB World of Beer offers guests the opportunity to learn – and sip – their way through South Africa's rich brewing history. Then guests take a walk on Africa's wilder side with three days of up-close hippos, lions and more on game drives and bush walks at Thanda Private Game Reserve.
Breweries on tap for the 13-day beer-lovers tour are Newlands Brewery in Cape Town, Birkenhead and Napier Breweries in Hermanus, and the Firkin and Zululand Breweries in Durban. Deluxe accommodations over the course of the two-week safari include upscale digs in a converted 1904 Cape Town waterfront warehouse, a cozy Durban B&B, a luxurious tented camp on a private reserve and a hip hotel in Johannesburg's trendy Melrose Arch neighborhood.
The recent proliferation of craft beers in South Africa – including offerings from Boston, Napier, Jack Black, Clarens, Triggerfish, Darling, Brewers & Union, Birkenhead, Saggy Stone, Robson's, and Drayman's – have given rise to several beer festivals, including We Love Real Beer in September, Cape Town Beer Festival in November and Clarens Beer Festival in February. Because of its ability to completely customize its itineraries, AAC can work beer festival attendance into Hops and Hippos tours for guests who want to time their travel to coincide with one of the events.
A variety of optional Hops and Hippos safari tour add-ons range from a home-brewing class at Beer Lab to Whale Coast whale-watching (seasonal). Land-only rates for 2013 travel are $4,506 per person April 1 – September 30, and $4,871 per person October 1 – December 31. Click here for a full itinerary and pricing details.
Company Information: A leading safari company specializing in crafting custom itineraries to 13 African countries, Africa Adventure Consultants (AAC) was recently named to the 2013 National Geographic Traveler "50 Tours of a Lifetime" and to Men's Journal's "Best Summer Adventures 2013" as well as being granted that magazine's "Approved by MJ" status. AAC also received a 2013 Ubuntu Award from South African Tourism as an outstanding travel partner. The staff at Africa Adventures Consultants has lived, worked, and traveled throughout Africa, giving them an insider's perspective on how to create the best safaris in the continent's top destinations. In addition to creating customized private journeys, AAC offers more than 20 group trips, including gorilla safaris in Uganda and Rwanda, Kilimanjaro climbs and migration safaris. For additional information, visit http://www.adventuresinafrica.com.
Media Contact: Darla Worden, WordenGroup Public Relations, darla(at)wordenpr(dot)com, 303.777.0635