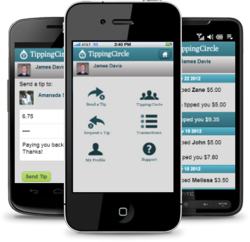 The API is a hybrid containing both OAuth and simple authentication based on the endpoint to support both easy and deep integrations.
(PRWEB) May 23, 2013
TippingCircle is unveiling a brand new API today that gives both mobile and desktop developers a great new tool to work with. The TippingCircle API allows applications to tightly integrate with its social payments platform to strengthen and expand the social network with a simple and secure way to exchange money with friends and family in over 190 countries worldwide.
A number of companies and developers have already integrated their apps as beta users and TippingCircle is excited to announce this to the public. This same API is being used by TippingCircle's mobile app that is currently available as a mobile web app and will soon be released as a free download for Android and IOS. They are working hard to make this available as soon as possible.
The API, TippingCircle writes, is a "hybrid API containing both OAuth and simple authentication based on the endpoint to support both easy and deep integrations."
Companies and developers are integrating because TippingCircle offers a social payment profile that extends a user's social network providing the ability to exchange money with social connections and anyone with an email address. This platform creates an attractive personal payment experience. The tipping process is more focused on the event or fundraiser rather than the amount of money.
"We've designed it so when a tip is sent, the user can include a message about the event that draws attention to the fun time they spent together, as opposed to the money exchange itself," said James Davis, founder. "Users can also view one another's profiles to see past tips and reminisce on the exciting night they had or lookup tipping buckets to support a cause their friend is passionate about."
TippingCircle has become a one-stop shop for various types of personal payment methods used online. In addition to P2P payments (person-to-person), the platform offers group payments and social fundraisers using tipping buckets. These buckets can be shared through Facebook, Twitter, and other social networks to collect payments for birthdays, weddings, sports clubs, and other events. Social fundraisers are helping people pay for medical bills, contribute to local non-profits, and support other good causes.
One thing to keep in mind is that, in order to obtain access to the API, one first needs to provide details about their application and go through a quick approval process. There are different levels of permissions to the API where it's very easy to gain access to the top level API verses the low level that provides more protected functions of the system that require a user's authorization.