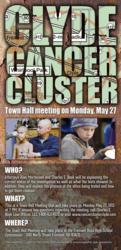 Clyde, OH (PRWEB) May 22, 2013
It has been announced that Attorneys Charles Boyk and Alan Mortensen are holding a Clyde Cancer Cluster Town Hall Meeting. The meeting will commence at 7 p.m. and is being held at Fremont Ross High School Gymnasium -1100 North Street Fremont, Ohio 43420.
During this meeting the following will be covered:

Status of investigation
What the tests showed
Process of the attics being tested and how to get them cleaned/fixed
A question and answer time where everyone is encouraged to participate
If there are any further questions regarding this meeting, the public is asked to contact attorney Charles Boyk at 800-637-8170. This will be a great opportunity for those living in Clyde and the nearby area to get informed about the ongoing investigation as well as ask any type of question they may have pertaining to the cancer cluster.