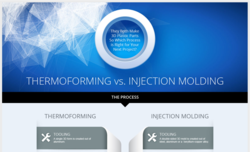 There's no 'one size fits all' in plastics manufacturing
(PRWEB) May 22, 2013
Plastics manufacturer Ray Products has released an infographic titled "Thermoforming vs. Injection Molding" on its website at http://rayplastics.com/thermo_vs_injection.
The infographic compares the two popular custom plastics manufacturing processes, and is designed to help potential customers choose the right process for their next project.
"There's no 'one size fits all' in plastics manufacturing," explained Brian Ray, Ray Products president. "We're trying to help people pick the option that's best for them."
While thermoforming and injection molding can create similar results, each process has unique strengths.
"The first thing most people look at is cost," said Ray. "Thermoforming has much lower tooling costs, while injection molding usually has lower per-part costs that can make up the difference at very high quantities."
Both processes require the creation of an initial mold. The cost of creating a mold for injection molding is typically significantly more expensive than the cost to create an initial mold for thermoforming.
"Thermoforming is usually more cost effective for projects with lower quantities, projects where the mold needs to be frequently changed, or with large parts," explained Ray.
In contrast, injection molding can be a more affordable option for projects with higher quantities of smaller parts.
The infographic compares the costs of thermoforming and injection molding on a fairly typical sample project to create a custom 48-inch by 60-inch part. In the example project, thermoforming is the more affordable option to create up to approximately 3,000 parts. At quantities of 3,500 or more parts, injection molding becomes the more affordable option.
The infographic also compares additional characteristics of the two processes, including aesthetics, production times, large-part capability and others.
"Too many people pick the process they're most familiar with, and don't consider other options," said Ray. "It's a shame, since picking the right process will usually cut costs and improve the final result."
The manufacturer hopes that the infographic will help engineers, product designers and others considering custom plastic manufacturing to make an informed choice as they pick the thermoforming process they plan to use.
---
About Ray Products: Ray Products is a custom plastics manufacturer based in Ontario, California. Founded in 1949, the company is currently under its 3rd generation of family ownership. Ray Products operates a 48,000 square foot ISO 9001:2008 certified manufacturing facility that offers the largest thermoforming capabilities on the west coast, fully robotic 5 and 6-axis trimming and 3D coordinate measurement accurate to within a ten-thousandth of an inch.