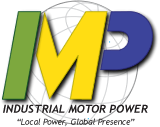 Burbank, CA (PRWEB) May 22, 2013
Harry Nadjarian, Chairman of the Board of Industrial Motor Power, announced today a donation was made to the American Red Cross to assist in their efforts to help the tornado victims in Oklahoma.
Mr. Nadjarian explained his decision to donate to the Red Cross: "We have a strong business presence in the region selling our power generation equipment. But more importantly, we have many friends and business partners in the area that have been directly affected by this tragedy. We hope the contribution can help them and perhaps influence others to donate as well."
IMP, a global industrial power generation equipment provider, made this announcement public in hopes of encouraging others to assist in any manner they can. We encourage people to visit the American Red Cross's web site to find ways to assist at http://www.redcross.org/support/donating-fundraising/donations. For more information about IMP, or to view this release online, please visit our web site at http://www.impcorporation.com/company/news.