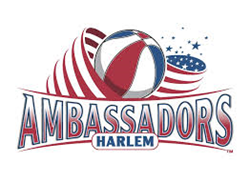 It's very exciting to be able to bring professional ticketing and fee-free donation tools to the host of nonprofits that we work with across the nation.
Seattle, WA (PRWEB) May 23, 2013
Community fundraising powerhouse the Harlem Ambassadors has announced that they will team with Brown Paper Tickets with the goal of raising more funds for nonprofits across the country through 2015. The comedy basketball team hosts more than 200 fundraisers each year in 48 states and Canada, helping communities to use the games to raise funds for local scholarships and community projects.
"This partnership will help every game to be a sell-out and help every community to make more than was possible before this alliance," said Dale Moss, President/Executive Producer of the Harlem Ambassadors. "It's very exciting to be able to bring professional ticketing and no-fee donation tools to the host of nonprofits that we work with across the nation."
The Harlem Ambassadors are college-educated drug-free adult role models for youth, who promote the values of staying in school, staying away from drugs and fostering racial harmony. They have two squads that tour the country providing exciting, affordable family fun as they entertain crowds with their skills, tricks and ball playing, and take on "local celebrity" teams, often comprised of teachers, coaches, member of local police and fire departments, politicians, school administrators, community service club members, former college champions, and more. Regardless of the score, the winners are always the "home team," as they are the ones raising money with the proceeds from ticket and concession sales for community projects such as scholarships, community events and more.
"Most of our community groups sell tickets through their organizations, but in order to purchase them, supporters needed to bring cash or a check in person," Moss said. "Brown Paper Tickets will bring us all the ability to sell tickets online in any market, even months in advance, for the nation's lowest ticketing fee, and give these community groups the ability to accept no-fee donations online before the event. Brown Paper Tickets also offers 24/7 live customer service assistance, in case anyone has questions about the event or wants to pay over the telephone instead of online, which will certainly increase their revenues."
Brown Paper Tickets is a Not-Just-For-Profit ticketing company, which makes "paying it forward" a part of its business model, giving 5 percent of profits from each ticket sale to nonprofits in the category of each ticket-buyers' choice, and offering many different ways for event producers to give back to the community and to raise funds for their causes. Community groups working with the Harlem Ambassadors will have the option to donate free tickets for U.S. military and veterans and their families with the touch of a button, allow their ticket buyers to purchase limited-edition souvenir artwork on their custom tickets for a 25-cent donation to a nonprofit, as well as have the ability to accept fee-free donations for their own cause as a part of the ticket-selling process.
"We are thrilled to work with the Harlem Ambassadors, as a like-minded organization dedicated to helping communities grow," said Jerry Seltzer, outreach representative for Brown Paper Tickets. "You won't find a better fit of two companies working to better the communities they touch."
About the Harlem Ambassadors: Harlem Ambassadors, Inc. (http://www.harlemambassadors.com) puts the fun into fundraising by providing comedy basketball events for non-profit organizations and the U.S. military and "Stay in School, Stay off Drugs" presentations for youth. To review a sponsorship prospectus, sponsors should contact Dale Moss at 970-472-1000 or harlemambassadors(at)comcast(dot)net.
About Brown Paper Tickets: Brown Paper Tickets (http://www.BrownPaperTickets.com), the Not-Just-For-Profit ticketing company, revolutionized the industry by putting free, professional tools for ticketing any-sized gathering on the Internet, and continues to champion the rights of ticket-buyers with the lowest fee for the most service in the industry. The company donates 5 percent of the profit from each ticket sale to build communities and nonprofits, pays its employees to work 40 hours each year for the cause of their choosing, and employs a team of "Doers," experts in industries such as music, new media, makers, roller derby and more, to fix, improve and revolutionize the communities where we live, work and play.