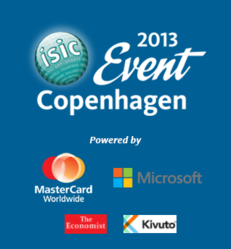 Copenhagen, Denmark (PRWEB) May 24, 2013
Kivuto Solutions Inc., the global leader in complex digital distribution, and Microsoft® have announced a program for students around the world to get Microsoft software at great prices in their country through the International Student Identity Card (ISIC) Association.
Introduced yesterday at the 2013 ISIC Event in Copenhagen, the new student offer leverages the ISIC-branded, fully-hosted ISIC WebStore built by Kivuto on its proprietary Electronic License Management System (ELMS). It offers an outstanding suite of Microsoft software to all ISIC cardholders in their country at the lowest possible price through the ISIC WebStore.
"This is a unique program that will deliver key software to students through the flexible and secure ISIC WebStore," said Brad Brohman, Vice-President, Sales, Kivuto Solutions. "It allows students to take advantage of the benefits of being an ISIC cardholder and the instant access to software available through the WebStore. All students with ISIC cards in participating countries are eligible for the program and can access the WebStore with their ISIC card number to select the software they need."
The ISIC card is the only internationally-recognized proof of full-time student status issued in over 127 countries. It is available to full time students at school, college or university, aged 12 years and above.
"We're happy that Kivuto and Microsoft chose this event to introduce this exciting offer to ISIC cardholders around the world," said Martijn van de Veen, ISIC General Manager. "Through the wide range of opportunities available to cardholders, the ISIC Association aims to play a supporting role in improving intercultural understanding, increasing educational opportunities and facilitating student life. This new offer is another example of the many benefits available to cardholders."
In addition to this announcement, Kivuto participated in two panel discussions at the 2013 ISIC Event. Ram Raju, President and CEO of Kivuto Solutions, Inc., presented on the topic "Premium Discounts Only for Students?" and Brad Brohman, Vice-President, Sales presented at the "ISIC Software & Online Offerings" session.
About ISIC
The ISIC Association is the non-profit organization behind the International Student Identity Card (ISIC). First established in 1953, the ISIC card is now issued to more than 4.5 million students each year. It is recognized by universities, academic institutions, student unions, national governments, financial institutions and ministries of education around the world. http://www.isic.org.
About Kivuto
Kivuto Solutions Inc. is the global leader in solving complex digital distribution challenges. Over 60,000 academic institutions and departments trust Kivuto to manage and distribute software to their students, faculty and staff. The company distributes software in 195 countries and supports 14 languages. http://www.kivuto.com.