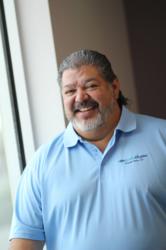 Armando is a true humanitarian and his personal mission is to provide the most compassionate care to the patients and families he serves.
San Antonio, TX (PRWEB) May 23, 2013
A respiratory therapist with 34 years of experience has been honored as AcuityHealthcare's 2012 Clinician of the Year. Armando Rolando Gonzales Sanchez Segura, XII (Armando Segura) works at Acuity Hospital of South Texas in San Antonio, one of several long-term, acute-care (LTAC) hospitals owned or managed by AcuityHealthcare. Segura was selected from hundreds of clinicians system wide because he epitomizes the company's guiding principles of integrity first, service before self and excellence in all we do.
"Armando is a true humanitarian and his personal mission is to provide the most compassionate care to the patients and families he serves," said Kristopher Karns, CEO of Acuity Hospital of South Texas. "His enthusiasm, warmth and humility are a remarkable gift and he was singled out for this high honor because he enriches the lives of his patients, co-workers and members of the community," added Karns.
PUTTING OTHERS FIRST
Armando was born the 10th child in his family of sixteen children. He has eleven brothers and four sisters. Growing up in such a large family, Armando learned at a young age about the importance of teamwork and seeking first to understand before being understood. He was taught to put the needs of his family before his own and in the workplace, he continues to put the needs of his patients, their families, his coworkers and physicians before his own.
Armando is very giving of his knowledge, mentoring others with patience and kindness. He works with Respiratory Therapy (RT) students from the San Antonio Military Medical Center (SAMMC), teaching them best RT practices and techniques. He teaches nursing students from the University of Texas Health Science Center about how RT functions as one of many spokes in the healthcare wheel, all working together to deliver outstanding patient care. He is also a preceptor for all new Acuity Hospital of South Texas RT associates, collaborating with the Director of RT to ensure their competencies are completed.
The fact that Armando is bilingual has been a gift to Acuity Hospital of South Texas, since many patients speak only Spanish. Armando's ability to communicate with all patients not only helps him provide excellent care but also helps his patients and their family members feel more comfortable and secure.
In addition to his BS in Healthcare Administration from Southwest Texas State University, Armando also has a Masters in Theology and a PhD in Christian Pastoral Counseling. He has the knowledge, experience and dedication to counsel families when their loved one is passing on and he has been known to drop in after midnight, off the clock, to help families who are going through this difficult process.
INVOLVED IN THE COMMUNITY
Armando is extremely involved in the community. He is the director of the AMS softball league that has 16 teams of 20 players. The league is named after his company, AMS, which are the first initials of his three children Armando, Megan, and Segura. AMS was established 12 years ago and provides concentrators, nebulizers, low beds, suction machines, air mattresses, oxygen and E-cylinders to 16 nursing homes in and around San Antonio. Armando provides BBQs for each of those nursing homes when they achieve an excellent survey. AMS also sponsors the Medina Valley Youth Soccer league and Walking in the Light dance team and made a donation to those affected by Hurricane Sandy. Acuity Hospital of South Texas has joined the AMS softball league and it has proved to be a morale booster for employees and positively impacted the hospital's culture.
THE AWARD
In its third year, the AcuityHealthcare Clinician of the Year award is based on four major criteria:

clinical excellence in practice
exceptional team work
extraordinary caring relationships
outstanding leadership skills and professional growth.
Each hospital in the AcuityHealthcare system nominates one clinician and a committee selects the award winner who receives a cash award and recognition celebration.
"At Acuity, we strive to maintain the highest integrity and deliver the best quality patient care in the healthcare industry. It is our goal to achieve clinical excellence by employing the best and most talented people," said Laurie Lewis, RN, MSN, MHA, NEA-BC, AcuityHealthcare Corporate Chief Clinical Officer.
Ed Cooper, CEO of AcuityHealthcare, said, "Occasionally in our lives, there are people we are honored to know. Armando is one of those people. It makes me incredibly proud that Armando works for our company."
ABOUT ACUITY HOSPITAL OF SOUTH TEXAS
Conveniently located in downtown San Antonio, Acuity Hospital of South Texas (AHST) is a modern, freestanding, 30-bed long-term acute-care (LTAC) hospital with a six-bed High Observation Unit featuring all private rooms and the latest technology. Serving San Antonio, the beautiful Texas Hill Country and the Rio Grande Valley since 2008, AHST treats medically complex and critically ill patients requiring long-term care. The hospital has developed clinical expertise in Pulmonary/Ventilator Management, Wound Treatment and Infectious Disease. AHST delivers a comprehensive, patient-focused care model with proven clinical outcomes for high acuity patients in a family-friendly atmosphere.
ABOUT ACUITYHEALTHCARE
AcuityHealthcare was founded in 2001 by President and CEO Edwin H. Cooper. Headquartered in Austin, Texas, with its Service Center in Charlotte, North Carolina, what began just over a decade ago as a small operation has since flourished into a thriving hospital company with locations in New Jersey, Ohio, North Carolina, Texas and Arizona.
We treat many conditions in our hospitals, but among the most common are: cardiac and respiratory failure, pressure wounds, stroke trauma, multi-system failure, infectious disease, and other neurological injuries. Our team of nurses and physicians also specialize in ventilator-weaning. In addition to diagnosis and treatment, we provide rehabilitation services for our patients combined with family education to ensure that the patient's health and safety continue even after they are discharged.