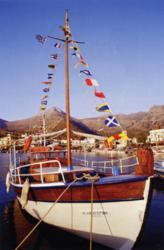 Little Rock, AR (PRWEB) May 29, 2013
Summer national holidays are coming up and so are many regattas and events for ship and boat enthusiasts. During these special occasions, ships and boats often "dress ship" with International Code Signal flags.
International code flags are used to signal messages between two ships or between ship and shore. Also called signal flags, they are a set of flags of different colors, shapes and markings which used alone or in combination have different meanings.
The flags include 26 square flags which depict the letters of the alphabet, ten numeral pendants, one answering pendant, and three substituters or repeaters. Only a few colors can be readily distinguished at sea. These are: red, blue, yellow, black, and white; and these cannot be mixed indiscriminately. You will notice, for clarity, the flags shown are either red and white, yellow and blue, blue and white, or black and white; besides plain red, white, and blue.
When dressing a ship with International Code flags, the ship or boat is dressed at 8 a.m., and remains dressed until evening hours. The vessel is dressed while at anchor only, except for during maiden (first) and final voyages, and participation in a marine parade or other unique situation.
When dressing a ship, the national ensign is also hoisted at the stern staff (and the Union Jack may be displayed at the bow staff on government vessels). The rainbow of flags of the International Code is arranged, reaching from the water line forward to the water line aft, by way of the bowsprit end (or stem if there's no bowsprit) and the masthead(s).
Flags and pennants are bent alternately, rather than in any indiscriminate manner. Since there are twice as many letter flags as numeral pennants, it is good practice, as in the Navy, to follow a sequence of two flags, one pennant, two flags, one pennant, throughout.
The sequence recommended here provides a harmonious color pattern throughout:
Starting from forward: AB2, UJ1, KE3, GH6, IV5, FL4, DM7, PO Third Repeater, RN First Repeater, ST Zero, CX9, WQ8, ZY Second Repeater.
You can purchase International Code of Signal flags to dress your ship at FlagandBanner.com. Call their Flag Experts at 1-800-445-0653 to answer other nautical flag display questions, or find more supplies to dress your ship or boat, or even have personal ensign made. They even carry nautical flagpoles with yardarms! FlagandBanner.com is more than just a flag store; they are Flag Experts with more than 38 years in the flag business!