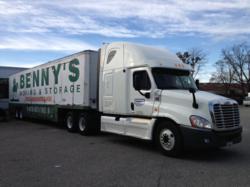 Watertown, MA (PRWEB) May 23, 2013
Benny's Moving Company has announced the introduction of their new White Glove Service. This is the only Boston Moving Company offering premier packing and moving for local residential customers. The hourly flat rate of $250/per hour includes a top team of four professionally trained movers, unlimited packing materials, and two hours of free travel time. The team has been specifically trained to handle large and/or delicate items, such as pianos or antique furnishings, with an expert touch.
David Abbot, Owner and CEO of Benny's Moving, states, "This service begins long before your actual move. If you have ever dreamed of moving into a new home, where everything is handled with one phone call, this service is for you. A dedicated customer liaison will be assigned to you, will remain your contact person throughout the entire process and will provide you with as much or as little help as you desire. If you are considering a move within Boston or anywhere in New England, we encourage you to experience the difference our White Glove Service can make. When it comes to moving, its not about the price... it's about the service."
Traditional services are still available and include commercial or office moves, with assistance for one or all of your employee relocations: long-distance moving within New England, or to the Midwest or West Coast. Benny's moving provide full packing and furniture wrapping, temporary or long term storage, and offer a wide range of services including junk removal. Fully licensed and insured and members of the Massachusetts Moving Association and the Better Business Bureau. Benny's personnel arrive uniformed and professionally trained. Benny's can move pianos, large homes, Commercial office. Call Benny's office and find out why most of customers have moved with Benny's Moving before.
Benny's Moving and Storage Boston, "It's not about the price... it's about the service."
ABOUT BENNY'S MOVING COMPANY, INC.
Founded in 1992, Boston based moving company Benny's Moving is an award winning residential and commercial mover, offering local, long distance, and international moving services. Member of American Moving and Storage Association, A+ Rating by the Better Business Bureau, "Best of Boston Mover."
Visit our website at http://www.bennysmoving.com