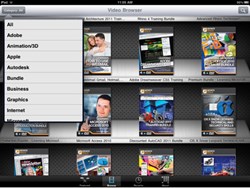 Learn At Your Own Pace From Your Mobile Device
(PRWEB) May 24, 2013
Software training company InfiniteSkills Inc has published a new version of its mobile app that allows subscribers to download any videos from the company's library of over 10,000 lessons to watch without an active internet connection.
Version 4.1 of the Video Training Courses from Infinite Skills iPad app, available as a free download with demo content, lets the company's subscribers to stream and now download any course or individual lesson to watch any time they want, with unlimited access for $10 per month.
InfiniteSkills Tutorial Video Library - iPad and iPhone App
"This is a feature that many of our biggest fans have been asking for," said Colin Boyd, sales director of InfiniteSkills. "Streaming has worked great, but the benefits of downloadable content are significant. Putting the two together lets the customer choose exactly how and when they want to learn."
By saving selected tutorial videos for future viewing, customers can watch videos while traveling without relying on their mobile data plan, and owners of WiFi-only iPads and iPod Touch devices now have the freedom to watch InfiniteSkills content of their choice anywhere they go. Further, customers are able to prioritize the lessons and courses that are the most important to them, Boyd said.
With more than 170 full-length courses covering CAD software, business applications, programming languages, graphic design tools and other technology topics, InfiniteSkills constructs their courses to reach a wide user base of professionals and enthusiasts from numerous industries and areas of interest.
"We have found that while users in certain industries rely mostly on their core tools, AutoCAD or SolidWorks for engineers, Photoshop or Illustrator for graphic designers, there is also a huge amount of overlap," said Chris Johns, content coordinator for InfiniteSkills. "Both types of users may be interested in learning web design, or a programming language, or project management software. It's why our unlimited subscription model has been such a hit. The option to watch videos offline is only going to build upon that."
The new features found in the 4.1 update follow other improvements to the InfiniteSkills app that make it easier for more customers to access professional training. Starting with individual iPad apps for selected products, moving to a full library system with in-app purchases, then to an unlimited access model, and finally releasing a universal app for use on iPhones as well, the app continues to grow in features and popularity.
Other capabilties of the app include access to project files that users can download to their computers, the ability to broadcast video to Apple TV devices over AirPlay, and a playback and bookmarking interface that helps users track their progress through each course. The app is available for free with access to hundreds of free demo tutorials, and all content can be unlocked through the in-app subscription of $10 USD per month.
http://www.infiniteskills.com/ipad.php
About InfiniteSkills Inc.
A leader in the field of video-based software training, InfiniteSkills strives to offer the highest quality courses available at an affordable cost. InfiniteSkills tutorials are task-oriented instructional videos, teaching complex skills by providing hands-on examples, guiding users as they carry out critical objectives. InfiniteSkills offers a comprehensive range of software titles available as DVDs, digital downloads, and mobile editions, keeping with company aim of delivering professional training to customers anywhere they want to learn.