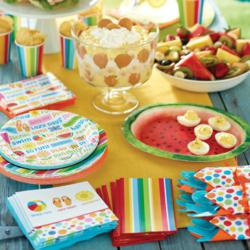 We wanted to create a one-stop shop for people planning summer gatherings.
Joliet, IL (PRWEB) May 23, 2013
PartyPail, a leading online retailer of party supplies, recently launched a collection of summer party themes to provide consumers affordable options for their summertime entertaining needs. Along with these new party themes, PartyPail is also launching a Pinterest contest inviting customers to create Pinterest boards showing off their best summertime entertaining ideas. The winner of the contest will be chosen at random and will receive $75 worth of PartyPail products.
"What we wanted to create was a one-stop shop for people planning summer gatherings," said President and Co-Founder Edward Hechter. "Summer is all about relaxing, so we wanted our customers to be able to easily and affordably purchase everything they need for that picnic, pool party, or barbecue."
Lower-than-competitor pricing and free shipping on orders over $75 make PartyPail's summer party supplies an economical choice for consumers. "We're committed to providing our customers affordable options that are not only high quality, but also stylish," said Hechter.
The collection of summer party themes features designs that are on-the-mark with this summer's entertaining trends. Bright colors, floral motifs, and simple country touches are common design elements throughout the themes. Plus, a rainbow of coordinating solids means customers can mix and match and save on the cost of their parties.
Already, the Cherry Gingham, Pineapple Punch, and Aloha Summer party themes are proving to be customer favorites due to their trendy designs and affordable price points.
"While curating the collection, we keenly focused on the types of events people throw during the summer," said Marketing Manager Katie Knight. "We have party themes for all types of summery celebrations; laidback picnic basket party supplies for summer barbecues; and a huge selection of luau party supplies that are perfect for beach and pool parties."
To meet the demands of customers, PartyPail added eight new luau party theme options, as well as hundreds of luau accessories, such as leis, grass skirts, barware, serveware, and favors. "We really focused on becoming competitive in the luau party space," said Hechter. "We made sure our customers could find everything they need for their beach or pool party in one place."
Besides being a one-stop shop, PartyPail strives to be a one-stop party planning resource for its customers as well. Each summer party theme and category has accompanying party planning tips, blog posts, and Pinterest boards to help customers plan their parties from beginning to end. "Not only can you come to our site and purchase plastic margarita glasses and coconut cups, but you can also get a great margarita or piña colada recipe while you're at it," said Knight.
PartyPail plans to continue providing customers with trendy and seasonal party supplies to keep the party going year-round.
About PartyPail
In 2007, PartyPail started out as a small online retailer with a focus on baby shower supplies. Since then, the ecommerce operation has grown to provide customers with birthday party decorations, bridal shower themes, supplies for milestone events, and seasonal party decorations. From the beginning, PartyPail's number one priority has been to provide the best customer service possible.