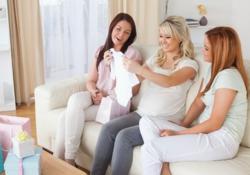 The perfect resource for reaching aunts, grandmothers, close friends, and neighbors who are shopping for baby presents for the new mom.
Princeton, NJ (PRWEB) May 28, 2013
Now marketers in the new baby space can reach the friends, family, and neighbors who are close to new and expecting moms through ALC Newborn Network Connections. This breakthrough collaboration among ALC, Experian, and LexisNexis makes it possible for the first time ever to reach the most important people in the lives of new mothers.
According to Lori Magill-Cook, Executive VP ALC, "It's the perfect resource for targeting aunts, grandmothers, close friends, and neighbors — those in the social circles of new moms — who are shopping for baby showers, newborn presents, baby's first birthdays, gifts for children, and more."
Capturing over 80% of all U.S. births, the ALC Newborn Network, powered by Experian, delivers nearly 200,000 prenatal mothers-to-be each month. Totaling over 3.6 million records annually, the file includes new mothers spanning from seven-month prenatal to twelve-month postnatal in new and growing family households. ALC has partnered with LexisNexis to append the contact information for more than 2.6 million "Connections" of Newborn Network moms.
"Our ability to connect brands with the social circles of these moms is a powerful tool in forming and deepening customer loyalty," adds Ms. Magill-Cook.
2.4 Million Newborn Network Connections Immediately Available
3.6 Million Newborn Network Pre- and Postnatal Mothers Available
Newborn Network Connections can be segmented by relatives, non-relatives, neighbors, trimester or birth month, and geographic proximity to the new parents. ALC Newborn Network offers targeted segments that help improve results for each sector of the new parent market such as income, gender of newborn, first time parent, and multi-child families. The file includes demographic, lifestyle, ethnic and other data attributes, which are available for targeting and relevant messaging.
ALC Newborn Network, powered by Experian, combines more than 50 principal public and proprietary data contributors. Each source is tested for accuracy, deliverability, and timeliness. Robust quality control measures are the cornerstone in maintaining the efficacy of the database. Newborn Network Connections is powered by LexisNexis, the nation's largest aggregator of accurate consumer public record information.
For more information on ALC Newborn Network Connections please contact Lori Magill-Cook, Executive Vice President, at 609-580-2777 or by email at lori(dot)magill-cook(at)alc(dot)com.