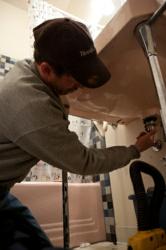 Scottsdale, AZ (PRWEB) May 22, 2013
June is National Safety Month, an annual observance to educate individuals on the leading causes of preventable injuries and deaths.
It's also an ideal time for home service providers to show their appreciation for customers with discounts and safety tips.
According to the National Safety Council, injuries are a leading cause of disability for people of all ages. They're also the leading cause of death for Americans ages 1 to 44.
The good news is that many injuries are preventable by practicing safe behaviors, such as cleaning up clutter.
"Maintaining a clean, uncluttered home is about much more than aesthetics," said Bob Kearn, president and CEO of COIT. "It's also an important aspect of protecting the safety of everyone who resides in, or visits, the home."
Here are four ideas for promoting National Safety Month:
1. Provide month-long discounts.
Promote these on Web sites, social media pages, email newsletters and any paid advertising. Consider offering exclusive discounts to Facebook fans and Twitter followers.
To boost sales, add service scheduling software to your online marketing efforts. This allows customers to instantly schedule service without calling.
"By placing a 'Book Now' button next to your promoted discount, you make it easy for customers to make an immediate purchase," said Bob La Loggia, CEO of Appointment-Plus scheduling software.
2. Schedule free safety inspections.
Providing free in-home safety inspections shows you care about your customers' well-being.
And while a free assessment may not result in an instant sale, it oftentimes leads to future business.
3. Host a seminar.
Conduct a safety seminar at your business. Invite current and prospective customers to learn how they can make their homes safer.
Reward attendees with special coupons for future service.
4. Speak at a safety seminar.
Check with local safety organizations on any upcoming speaking opportunities. Speakers' bureaus are another good resource.
Learn how Appointment-Plus service scheduling software can increase sales for home service providers. Take advantage of our limited time Memorial Day offer. Visit: http://www.appointment-plus.com/product/pricing.php. Call 800-988-0061.
#
About Appointment-Plus: Appointment-Plus is the leading service scheduling software for automating and streamlining the booking process. It offers customer self-scheduling and reminder notifications that reduce missed service times. The software integrates with Facebook and Twitter.