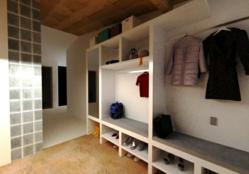 We are bringing affordable but competitive high-quality design to small-scale home remodeling projects
Cambridge, MA (PRWEB) May 25, 2013
Mudrooms are the perfect side home entryway for active families with kids and pets, but often succumb to the chaotic come-and-go of everyday life. Arcbazar, a Cambridge-based start-up company, offers an easy, affordable and convenient way to create beautiful and functional rooms and helps homeowners make the best of these small spaces.
Arcbazar addresses this home challenge by crowdsourcing architectural design. Every project is launched online and designers worldwide compete and submit solutions for the space. Hundreds of people around the globe have already used Arcbazar for successful remodeling, home, commercial and interior design projects. "We are bringing affordable but competitive high-quality design to small-scale home remodeling projects. Clients have used our website for renovating kitchens, bathrooms, basements, living paces, or just redoing hardscape and landscape" says Imdat As, CEO of Arcbazar.com.
James G, a home owner from Massachusetts, needed to create a bright and storage efficient mudroom in his house, "...we get a lot of snow in winter and mud in spring. We would like to create space for two adults, two children and guests to place coats, gloves, hats and boots". He initiated a competition on Arcbazar and received eleven design proposals, ultimately opting for a proposal from Darejan Gigauri, a designer from Georgia. James says "I am very impressed with quantity and quality of submissions."
About Arcbazar
Arcbazar.com, Inc. is the first-of-its-kind online crowdsourcing platform for architectural design projects. The company connects clients with designers worldwide, and allows clients to run competitions for their remodeling, home, commercial and interior design projects. To learn more, visit http://www.arcbazar.com.