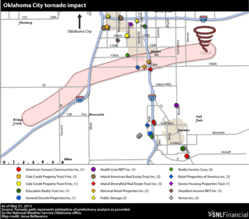 Charlottesville, VA (PRWEB) May 23, 2013
At least five REIT-owned properties appear to have been in the path of the devastating Tornado that struck the Oklahoma City area May 20, leaving at least 24 people dead. An additional 19 properties owned by 11 other REITs appear to be in close proximity to the storm's path.
A survey team from the National Weather Service determined that at least one area in the storm's path had damage indicative of an EF5-rated tornado, the highest category, meaning that wind speeds would have reached 200 to 210 mph. Only 59 storms of this size have been reported in the U.S. since 1950, NWS said. This is the second time in 15 years that this area outside of Oklahoma City has been struck by such a powerful storm.
Moreover, the May 20 tornado cut a huge swath, currently estimated at a minimum of 1.3 miles across. REITs exposure to the massive twister could have been worse; with just five REIT-owned properties falling directly in the track of the tornado, another nine REIT-owned properties lie directly to the north and 10 REIT-owned properties lie to the south of the storm's path.
National Retail Properties Inc. owns two restaurant properties in Moore within the storm's path. Inland Diversified Real Estate Trust Inc. owns a 259,903-square-foot shopping center in Moore that appears to be on the perimeter of the storm's path.
Realty Income Corp. and Retail Properties of America Inc. each own a single-tenant retail property inside the storm's track or along its perimeter.
In terms of exposure to the storm's direct path among companies with reported square footage data, Inland Diversified has the greatest exposure, at 2.10% of its total portfolio square footage. Retail Properties of America and Realty Income have even smaller totals — at 0.04% and 0.01%, respectively.
As of press time, the aforementioned companies had not released information about any potential damage to these properties.
For more information, click here: http://www.snl.com/InteractiveX/Article.aspx?cdid=A-17778628-11556