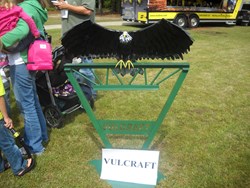 Florence, SC (PRWEB) May 23, 2013
ESAB Welding & Cutting Products sponsored the fourth annual Florence-Darlington Technical College's Welding Sculpture Competition on Saturday, April 20, 2013 at the Francis Marion University Arts International Festival.
The contest began with teams of professional and student welders running in a "scrap dive." The competitors selected scrap metal, which they turned into pieces of art. Each team had eight hours to complete their sculpture.
The theme of the competition this year was wildlife. A panel of judges awarded the top spot in the Professional Division to the team from NUCOR Steel of Darlington, SC for their sculpture depicting an alligator and turtles in a South Carolina wetlands scene. Central Carolina Technical College (CCTC) of Sumter, SC won the Student Division with a friendly-faced bear playing behind a boulder.
The team from Honda won second place in the Professional Division with their sculpture of a pair of cranes and a sea turtle nestled in a lily-pad filled pond. Vulcraft's colorful sculpture of a majestic bald eagle claimed the third place prize in the Professional Division.
Florence Career Center placed second in the Student Division with their depiction of a large-mouth bass springing out of the water. The team from Florence Darlington Technical College won third place in the Student Division with their sculpture of a mountain landscape featuring a coyote baying at the moon.
All of the artwork was auctioned off at the end of the competition, and raised nearly $10,000 to benefit the FDTC Educational Foundation's scholarship fund. NUCOR's sculpture fetched a record $2,500.
The NUCOR team won ESAB welding helmets and gloves for each team member. The CCTC team won $5,000 worth of their choice of ESAB welding equipment for use at their school, as well as helmets and gloves for each team member.
The second and third place Student Division teams each won their choice of $2,500 worth of ESAB equipment, and all members of the top three Student and Professional Division teams won welding helmets and gloves from ESAB.
"The FDTC Welding Competition is an exciting event for the entire community," said Steve Molenda, ESAB Global Marketing Communications and Brand Strategy Manager. "It's a lot of fun to see both the professional welders and the up-and-coming student welders channel their creativity into these amazing pieces of art. This event shows off the skills local welders have as well as the creativity that is part of the craft."
ESAB is a long-time supporter of welding education. ESAB partnered with Florence- Darlington Technical College in 2001 to establish a professional welding program. ESAB generously outfitted the FDTC Welding Program with a wide array of welding and cutting equipment, and they continue to support FDTC's efforts to educate students in this vital industry.
ESAB Welding & Cutting Products is a recognized leader in the welding industry. From time-honored processes to revolutionary technologies, ESAB's filler metals, welding and cutting equipment, and accessories bring solutions to customers around the globe. For more information, visit http://www.esabna.com or call 1-800-ESAB123.