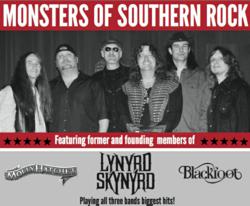 The all-star Southern Rock band for this benefit concert will actually have more members of the classic era lineups of these legendary bands than the bands touring by their names today do.
Logan, West Virginia (PRWEB) May 23, 2013
This Friday night June 7th, the South's gonna rise again as many former and founding members of Southern Rock's biggest bands will perform together for the first time ever to help the Salvation Army restock local food pantry shelves across Southern West Virginia.
Key members of legendary southern rockers Lynyrd Skynyrd, Molly Hatchet and Blackfoot will appear side-by-side in concert at the Coalfield Jamboree Theatre in Logan, WV, on Friday night June 7th at 7 p.m. That afternoon from 2pm-3pm, band members will stop by Logan Motorcycle Sales on Rt. 44 South/Jerry West Highway to meet fans, pose for photos and sign autographs. Tickets for the Friday night concert will also be available for purchase during that time.
The star-studded Southern rock concert will feature guitarist and vocalist Mike Estes from Lynyrd Skynyrd, Blackfoot founding members Greg T. Walker (bass and vocals) and Charlie Hargrett (lead guitar and vocals), Jay Johnson (guitar and vocals), who has performed in both The Rossington Band and Blackfoot, and founding/former member Bruce Crump (drums) of Molly Hatchet. Billy Ray Cyrus longtime pianist Barton Stevens will join the band for the evening, playing the signature piano riffs in "Sweet Home Alabama," "Free Bird," and "Call Me The Breeze" made famous by the late Billy Powell of Lynyrd Skynyrd.
The Salvation Army benefit concert is sponsored in part by Southern West Virginia Health System, a company of Lincoln Primary Care, LLC, Gaylock's Wrecker Service and Southern Amusements Company.
Tickets are on sale now at The Coalfield Jamboree box office from noon-6pm through June 6th and noon-7pm June 7th. Tickets are also available at BB&T Bank's Triangle location and Southern West Virginia Health Systems at Fountain Place Mall Logan, South Charleston, Man, Delbarton and Gilbert. Tickets can also be purchased online at http://www.coalfieldjamboree.com or by calling (800) 965-9324. Advance tickets are $17.00 or $20.00 day of show. Also, concert promoters for the show have just released a block of great seats for Friday night's performance. The official after-show party will be held at B.J.'s in Logan, WV.
To find out more about the band's appearance there, call Logan Motorcycle Sales at (304) 752-4145 or visit them online at http://www.loganmotorcyclesales.net. For artist interviews or media ticket requests, please contact: Jessica Lloyd with Allen Media Strategies at (703) 589-8960.