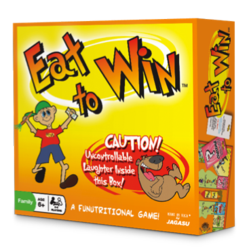 "These games are a great way to get kids thinking about their food choices and to promote healthy eating."
Highland, MI (PRWEB) May 28, 2013
Eat to Win is experiencing an increasing number of Mommy Bloggers asking to review their games and these Mommy Bloggers are unanimously giving Eat to Win positive reviews.
Eat to Win has been on a mission to reduce the obesity crisis facing today's children through their series of nutrition games and classroom flash cards aimed at children from Pre K-5. Their innovative approach uses fictional money as a reward for good food decisions and encourages physical activity in their child-friendly interactive games.
Catherine, a homeschooler with two boys who runs the Blog "Our Blog is a Little…Different," says, "I think these games are a great way to get kids thinking about their food choices and to promote healthy eating."
Sonya, a mother who blogs at "Sonya's Happenings…with Gracie's Tween Thoughts," says, "This game is fun. I really mean it. You'll learn about calorie counts the fun way, learn what are veggies and what are fruits. We really had a blast. Gracie is having company over this weekend and I bet they play this game while she is over."
Tiffany Reviews it All reviewed Eat to Win on May 10, 2013. She says, "My 3 year old would not stop talking about it and how he wanted to play all day. I really like the whole concept of the game, teaching kids about obesity. The game is colorful, easy to read and keeps minds on the game the whole time."
An example of a recent request to review the games came from Gwendolyn at Madame Deals. After seeing the game at the Michigan Women's International Show, she said, "I think if everyone knew about your product they would be as impressed as I am."
EatToWinGame.com is the place to go to purchase Eat to Win products.
About Eat to Win:
Eat to Win was created by a concerned mom whose own child struggled with being overweight. Child obesity in America has become a major issue. An unhealthy lifestyle is a common problem among children and adults. Eat to Win was created to help encourage nutrition and exercise through fun and active games. Please share your stories with us on Facebook and Like Us to receive a discount! Our games are in agreement with ChooseMyPlate.gov.