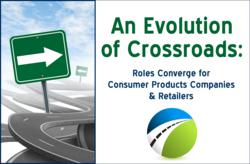 RALEIGH, NC (PRWEB) May 22, 2013
When is a retailer more like a consumer products company, and when is a consumer products company more like a retailer? "Now" is the correct answer.
As the lines between consumer products manufacturers (CPMs) and retailers continue to blur, supply chains need to adapt to a growing omnichannel marketplace that focuses on meeting changing customer expectations on price, selection, delivery and convenience. A new Tompkins International paper, An Evolution of Crossroads: Roles Converge for Consumer Products Companies & Retailers, explores how times have changed for these two industry sectors and provides a strategic direction to move forward.
"CPM companies are functioning more like retailers by selling products directly to consumers or through online retailers such as Amazon," says Jim Tompkins, CEO of Tompkins International and co-author of the paper. "Similarly, retailers are sourcing more and generating greater revenue from private label products. And all the while, consumers are pulling product through supply chains."
By 2015, it is possible that there will be very little difference between CPMs and retailers, since they both will follow the model of Design-Plan-Buy-Make-Move-Store-Sell. Customers will have the opportunity to customize products, delivery method, and the entire buying experience based on their own expectations.
But success for CPM companies will depend on how well their business strategies align with their supply chains, as well as how they incorporate demand-driven technologies, notes Bruce Tompkins, co-author and Executive Director of the Tompkins Supply Chain Consortium.
"If you are the leader of a CPM company today, you have to align your supply chain strategy with your business strategy to create real value for customers, and then be able to adjust quickly based on shifting demands," Bruce says.
The paper identifies several options for CPM companies to grow sales and take advantage of their transforming relationship with retailers:

Continue to sell to retailers and support their challenging requirements;
Sell products online using the CPM's own web presence;
Set up their own branded retail stores;
Sell through outlet stores;
Utilize Amazon and other pure online sales channels;
Sell through multi-sided platforms such eBay; or
Some combination of all the above.
To learn more about the Evolution of Crossroads and how to manage the converging roles of CPMs and retailers, read the full paper here.
About Tompkins International
Tompkins International transforms supply chains to create value for all organizations. For more than 35 years, Tompkins has provided end-to-end solutions on a global scale, helping clients align business and supply chain strategies through operations planning, design and implementation. The company delivers leading-edge business and supply chain solutions by optimizing the Mega Processes of DESIGN-PLAN-BUY-MAKE-MOVE-STORE-SELL. Tompkins supports clients in achieving profitable growth in all areas of global supply chain and market growth strategy, organization, operations, process improvement, technology implementation, material handling integration, and benchmarking and best practices. Headquartered in Raleigh, NC, USA, Tompkins has offices throughout North America and in Europe and Asia. For more information, visit http://www.tompkinsinc.com.
CONTACT:
Myra Schwartz
mschwartz(at)tompkinsinc(dot)com
Twitter: @jimtompkins
Creating Supply Chain Excellence Blog: http://www.tompkinsinc.com/category/blog/
Global Supply Chain Podcast: http://www.tompkinsinc.com/category/podcast/