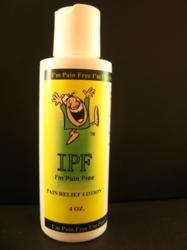 The use of funny, engaging video eliminates the language barrier while helping pain sufferers to smile a little and, hopefully, remember how quickly their pain can be taken away with IPF-Pain Relief Lotion.
Kernersville NC (PRWEB) May 22, 2013
Flying dinosaurs, hero pigs and trampolines may not seem to have much to do with relief from shoulder pain, back aches, sore muscles and pain from arthritis and "rheumatism" but to David Amos of Products Plus International, choosing this mix of elements in a new shocking-but-funny video for their IPF-Pain Relief Lotion™ makes perfect sense.
According to Amos:
"Even if you're the best muscle pain relief lotion on the market, it's really difficult for a new product not backed by billion-dollar-pharma to have the advertising budget needed to catch the attention of the public.
"For so many years, consumers have seen endless scenes of "pain suffering" actors holding their sore shoulders or aching backs, or cartoons of hammers hitting anvils to represent pain, and I think viewers have just turned that out now.
"IPF-Pain Relief Lotion™ is unique in that unlike Ben-gay-type topical products that simply give a "cooling" sensation, IPF-Pain Relief Lotion™ actually helps to reduce the inflammation that causes the pain for fast pain relief.
"In addition, IPF-Pain Relief Lotion™ can sooth even pain from insect bites and minor burns, making it an essential for every household's summer first-aid kit.
"Once a consumer has tried IPF-Pain Relief Lotion™ on shoulder pain, back ache, sore muscles or pain from arthritis or 'rheumatism', we're certain that they'll want to make it a permanent part of their pain relief standbys.
"If our flying dinosaur, hero pig and trampoline can catch people's attention and bring a smile, it will be a first step in breaking through the conventional advertising and, hopefully, get consumers curious enough to lean more about IPF-Pain Relief Lotion™ and give it a try."
About:
Products Plus International (PPI) markets and distributes all-natural, personal care products to include IPF-Pain Relief Lotion for muscle ache and arthritis pain relief (IPF-PainRelief.com), and Ultimate Desire for Men, the leading liquid, all-herbal ED formula (UltimateDesireForMen.com) and Simplee Natural Moisturizing Creme (BestMoisturizingCream.com). All products are available in the USA through Amazon.com.
PPI is also a supporter of the Bee Wise Kids (BeeWiseKids.org) educational initiative and curriculum to prevent childhood sexual molestation, and Green Ribbon Schools (GreenRibbonSchools.org) , the nation's premier interactive learning site for 6th through 12th graders, a project of 4empowerment, headquarters in Austin, Texas.
Contact:David Amos
Products Plus International
Tel 1-336-817-7376
Email: IPFPainRelief(at)gmail(dot)com
Address: 931-B South Main St., Suite 154
Kernersville NC USA 27284
About:
Lexis Global News (LGN) features current items of interest in business, real estate investing, technology, manufacturing, health and wellness, education, fashion, travel and life style.
LGM is a division of Lexis Global Marketing LLC.
http://www.lexisglobalnews.com/
Contact: Robert Allen
Lexis Global News
Tel 1-336-775-8617
Email: featurerseditor(at)lexisglobalnews(dot)com
Address: 931-B South Main St., Suite 154
Kernersville NC USA 27284