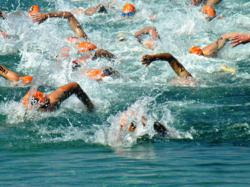 Garmin has never discounted this watch until now but there are only four days left so you'll have to hurry
Bozeman, MT (PRWEB) May 23, 2013
The Garmin 910XT is known as the world's greatest GPS watch for triathletes and it is on sale for $100 off, but just until May 27th at the Heart Rate Watch Company.
"This is the best sale we have ever had on the Forerunner 910XT so it is worth making some noise about because buyers can save $100", says Rusty Squire, President of the Heart Rate Watch Company.
THE UBER TRIATHLON WATCH
Garmin Forerunner 910XT has consistently been recognized as the best full Ironman triathlon watch available in the marketplace today. The watch does bike power, heart rate, speed, distance, pacing and much more. "Garmin has never discounted this watch until now but there are only four days left so you'll have to hurry", says Squire.
THE 910XT BUNDLE
The full bundle version includes a bike speed and cadence sensor, the Garmin 910XT quick release band and the premium heart rate strap. "You can even use the new Garmin out front bike mount with the quick release strap, which is pretty sweet", says Squire.
"You can also add a Garmin foot pod for run cadence and get all the possible metrics", says Squire. He adds, "About the only metric the 910XT won't perform is heart rate in the water."
The $100 off deal on the Garmin 910XT only lasts for four more days and then it is over, so visit the Heart Rate Watch Company and save a bundle on the best triathlon watch ever made.